Janus, Sunrise, Sea Smoke, and Justin Bieber.
Looking at my thermometer that read "3 degrees" on Wednesday
and Thursday last week, gave me a chill that lasted all of 48 hours. Having no heat in my house the night of the 22nd, was equally as memorable (to say the least.) I became very good friends with the technician from the Gas Company, who came to fix our furnace twice. Once in the middle of the night, and again first thing in the morning, when the heat had gone out again. Thank you Andy.

Thank God he was able to get us back on the heating plan.

That was way too cold for all of us. My poor dog Patch was having a hard time trying to understand what the hell happened to his radiator. He tends to sleep next to the old radiator on the colder nights. And being a German "Shorthair" Pointer, he had little insulation that night.
But we got the heat back the next morning. However, that was one cold night here in Hampton.

The wind was biting, and the temperature was dangerously low.

Don't know how they did it back in the days before they had oil, gas, and electric heat. Burning the logs in the fireplace had to suffice. But it must of been hard. Of course it was hard. In fact, it must of been insane. Can you imagine? Good lord. Having enough firewood to
get you through each winter, must of been a daunting task.

But they didn't know any better. So it was all the norm for them. Let me tell you, after spending the night with no heat last week, I have a whole new, deeper appreciation, for our hearty forefathers who forged through these biting cold New England winters. You guys were tough. Bad asses for sure. I salute you all.

It's funny, because on Thursday, when we all woke to no heat, I had plans on shooting the sunrise. I knew there would be a breathtaking sunrise, complete with a spectacular display of sea smoke. And I was right. I also knew it would be cold down at the ocean. I just didn't realize that I would be leaving an ice cold home to head out into the cold, to shoot the coldest day of the year.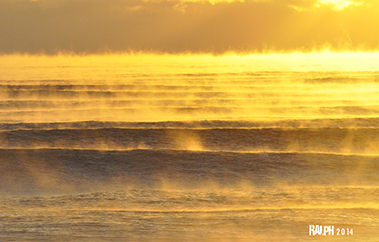 I think this looks cold. What do you guys think? Trust me, it's cold.

I was down there shooting this insane natural phenomenon. If you have never seen sea smoke on the ocean, you must get your butts down there the next time we have temps in the single digits. It is wild to say the least.




There is something special about winter sunrises here on the coast.
We are lucky to have these absolutely beautiful and natural occurrences happen each winter. So damn lucky.




And then, to actually have decent surf, on top of these amazing visuals? Well that my friends, is the frosting on the cake for us surf photographers. My senses were on overload for two days solid. The surf, the cold, the sun, and the seasmoke, made for some
impressive visual treats.


So winter storm JANUS did not deliver a lot of snow, but she sure gave us a visual show.

"Winter Scenes heals all wounds!"








Is it just me, or do some of you think that we should deport Justin Bieber back to Canada? This little ungrateful dweeb is about as talented as the "Partridge Family" or the "Brady Bunch" and he is as annoying as he looks. I say send him back to the cold north where he belongs. BEEB DWEEB.

I have to admit, I chuckle whenever I see, or hear about some celebrity falling from grace. It's as if, they actually believe they are immune from the same laws that we have to adhere to. I really hope that the judge gives Little Bieber the full sentence.




And we can all thank "USHER" for making this fool a filthy rich teen idol. can you believe Beeb The Dweeb was actually miffed that the Grammys snubbed him? Say what Justin? Look Beeb Dweeb. The Grammys are for the most part, geared towards actual talented musicians. You are not one of them Beeb. Not even close.

I do think it's pathetic how we treat these human beings, I have learned long ago, that we are all the same. We all put our pants on, one leg a t a time. Not knocking your talent per se, but you are no better than the average lament on the street in the BIG picture. These clowns (shown below) are testament to that fact. A parade of losers...




Now for Some Of My Weekly Global Observances
The BIG news of the week is all about Justin. Oh and another mall shooting. I was actually hearing some expert talk about how to avoid a mall shooting. Really? There is a manual for that? Mall shootings 101. School Shootings? Movie Theater shootings? The only way to avoid them, is to stay out of the malls and theaters.

OR...put armed guards in EVERY school. And beef up Mall and movie theater security. The second some clown pulls a gun in a mall, or crowded theater, a trained marksman simply takes him out. They could be retired police or military. I know I would feel safer, knowing that there was someone in these crowded places, packing a weapon to protect us. We'd be creating jobs.

And now for my weekly humiliation of Khalid Sheik Muhummed (KSM) the mastermind behind 9-11. This week KSM is seen with BEEB the DWEEB. I know this is wrong.
KSM would not be caught dead with this fool. But I detest KSM more than anyone on the planet. So let the humiliation begin.

So once again, let's all take a minute, and enjoy the weekly humiliation of the mastermind terrorist who killed 3,000 innocent civilians on September 11th, 2001.




* Note to self. Must pick up a case of hair gel at Home Depot this week.

ANNOUNCEMENTS:
HAPPY BIRTHDAY Kody Grondin January 25, 2014!
HAPPY BIRTHDAY Rikki Radkay January 25, 2014!
HAPPY BIRTHDAY Nick Miller January 26, 2014!
HAPPY BIRTHDAY Martha Lardent January 27th, 2014!
HAPPY BIRTHDAY Jose Perez January 28, 2014!
HAPPY BIRTHDAY Kelly Ciarmataro January 28th, 2014!
HAPPY BIRTHDAY Ziv Gidron January 29th, 2014!
HAPPY BIRTHDAY Teresa Paugh Quinn January 29th, 2014!

GET WELL Dr Brent Reinheimer.
Get Well soon to Patrick Meehan !
Rest In Peace Chet Curtis !

Please Support ALL The photographers who contribute to Ralph's Pic Of The Week every week for the last 9 years. **Think about BUYING a HIGH RES Photo from any of the weeks on RPOTW.

Remember my friends... Surfing Heals All Wounds.
Pray for Surf. Pray for Peace. Surf For Fun.

Ralph