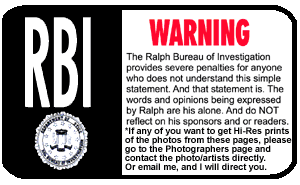 Widowmakers and Sea Smoke

There's a saying that I'm sure you have all heard. Unless you're one of the dozen or so readers in IRAN (true). And that saying is "Don't take anything for granted." Wise words. Not sure who penned the original saying, but we certainly have all heeded that line. And really, that saying could be used in so many walks of our lives. But I'm specifically talking about friends, family, and our pets.

I know, some of you are scratching your heads right now.

What I am referring to is when you find out that a certain friend had just been hurt, or passed away and you are basically stunned by the news. And you immediately think of the last time you spoke with that person, or the last time you saw that person. The other day I got a call from an old friend of mine. John Carden, some of you know him, but for those who don't, I'll give you a quick rundown on who he is.




I need to first go back and tell you how we met.

Way back in the late 80's and early 90's I was playing in a band called The NOR'EASTERS. We were playing the local club circuit from Boston to Maine and beyond. This was during a period when I was writing songs every other day. And when you write a song that the band likes, and better yet, your fans love, then you have to think about recording those songs. John Carden owned a recording studio in Beverly, MA. I was at the time living in the area along with my brother and drummer. Whitey our bass player, lived on the south shore.

Any way, long story short, I found John and we chatted. I told him who we were and what we were looking for. He had known of our previous bands and was somewhat familiar with me and my music.

His studio was called BIG CHEESE. It was a cool studio, and we recorded some of our best material with John. We hit it off and began a friendship that is still strong today. He was introduced to surfing by me, and that solidified our friendship even more. We did some bartering back in the day, and it always revolved around surfing.

Fast forward a few years and we both ended up living here in Hampton. During that time, John also got into photography. No doubt you've seen his work on the blog. For a while it was Carden, O'Connell, Nevins, and myself. I became closer to John. He was also a veteran, and I was heavily involved in the local veterans post. John ended up joining Post 35, and we had another thing in common.

John recently got married and has found peace and happiness with Missy and their daughter. We are always in touch. Either by phone, email, facebook, or on the beach. So when he called and told me about his near death experience, I thought about that line. "Don't take anything for granted."




John had what the Doctors call a "Widow Maker" heart attack. This happened on New Years Eve. They said an artery in his heart was 99% blocked. He was one step of the way of stepping into the other world. You can imagine how shocked I was to hear this. Had he passed from this earth, it would of sent shock waves through the community. He's lucky to be here.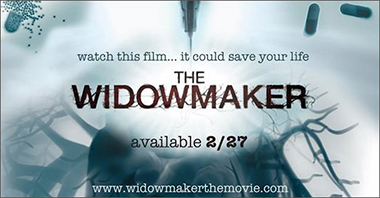 On a better note, John had to quit smoking. He smokes way too much. But his near death experience has shaken him awake. I told him how happy I was that he made it. And I meant it. I was happy to be talking to him, rather than talking about him with someone else.

After hearing in detail the horrors of that day and the following days and nights at Exeter Hospital, I said to him, "John, I'm glad you made it back, but, if this should happen again, where do you want your paddle?" I was of course referring to the surfer's paddle. He laughed and said "The Wall, 10th Street." I thought that was a good choice. Then I added, "John if it happens again this month, or the next, would you mind if we had your paddle in the Spring?"

We both laughed. And less any of you think I am that cold, I told him before we hung up "I love you John and I always considered you a good friend." He paused, and then he said "The same here Ralph."




When I awoke on January 5th, 2016 I knew it was cold outside. I also knew that with the water temps being so high, and the air temps being so low, it was the perfect recipe for SEA SMOKE.


And the best of all, was we had a decent swell running. It was a no brainer for me. I grabbed my gear and shot down to the coast. My son and Kody were already driving along Ocean Blvd looking for a place to paddle out. Now I can't really write about Sea Smoke without mentioning the master of the smoke. Brian Nevins. That guy has shot some of the most dramatic Sea Smoke scenes I personally have ever seen. Imagine my surprise that I beat him to the coast by 3 minutes. Ha. Actually we were both shooting elsewhere and had both experienced frost bite on our hands.

We laughed about it as we stood side by side shooting the boys out in the boiling ocean. I was doing my two fisted deal. One hand had the NIKON 7100 and the other had the CANON HF G 30.

All hand held this day. It was too cold for exposing any flesh.

If you're a New England surfer and you have yet to surf in Sea Smoke, you need to add that to your bucket list and get on it the next time the air temps drop below the water temps. Trust me it's trippy.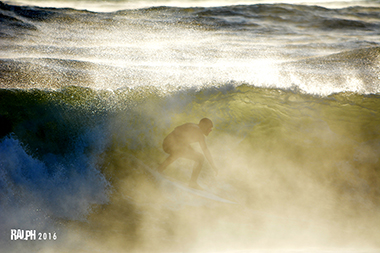 Just ask Britt Swartley here. Can you see him behind the smoke screen? Pretty cool, don't you think? And there was NO PUN intended there. Well, maybe a little. Seriously, the next time it gets that cold, do yourself a favor, and get down to the ocean before the sun rises. It's worth every layer of clothes you throw on. .

"Surfing In Sea Smoke Heals All Wounds"