From the Flag
R
aising on Iwo Jima to the Flag Waving
at Sochi!
I know it's hard for some of you surfers to wrap your head around this image and to be able to glean anything from it. But for me? This iconic photo changed my life for good when I first saw it. The photo was taken by Joe Rosenthal 69 years ago on this very day. It quickly became the most famous photo of WWII. I know you have all seen it.

There have been books, movies, and plays about this image.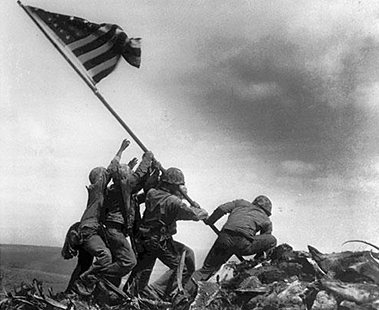 I don't have an exact day or time when I first saw it. I just remember my reaction to it. I asked my dad about it. He told me "those are Marines on Iwo Jima". He went on to say. "Your Uncle Bruno was there." My dad had missed Iwo, but he had fought on many of the other Pacific Islands. I instantly became interested in the Marines. I do remember staring at this photo over and over again.

To me it represented all of what America was about at the time.

Embroiled in a deadly War on two fronts. Germany and Japan. Things were bleak for both of our enemies, but not bleak enough to continue fighting to the last man. It must of been such an intense time both for the men and women on the front lines, to the men and women back home. I'm sure that once this photo went public, it lifted their spirits.

It certainly did for the Marine Corps.

Because if I joined the Marines after seeing this photo years later, I'm sure there were hundreds of thousands more who joined during that time. The war ended 6 months later, so most of the new recruits ended up as occupation troops in Japan or if they hung around long enough, the Korean war was looming for the US in 1950.

Followed by the war in Vietnam, and the rest, as they say, is history.

I had the special privilege to stand next to this flag on the 65th anniversary February 23, 2010. I was visiting the Marine Corps museum in Virginia with my good friend and fellow Marine George Masten. And we just so happened to be there on the exact anniversary of the flag raising.

I was awestruck to be standing next to "THE" Flag.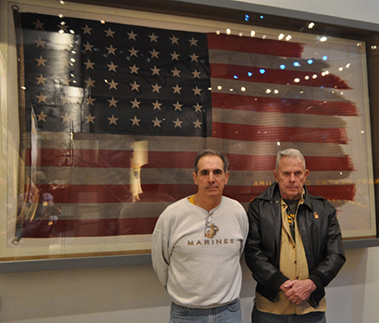 And George and I, won't forget this day, for as long as we both shall live. And for George's sake, I hope that's a long time coming.

The Marines at the museum have a sense of humor and honor. As they sculpted the flag raising out of snow for this special day.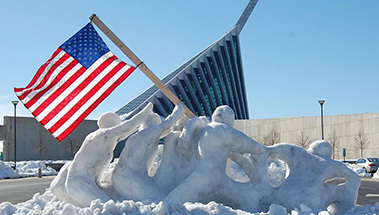 So from the flag raising, to the flag waving at the SOCHI Olympic winter games, it was hard not to get caught up in the excitement and patriotism of our US athletes competing for our country.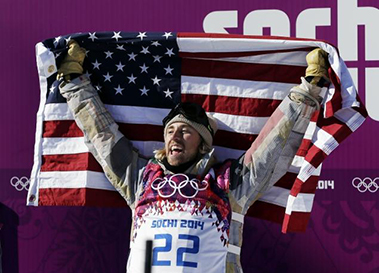 And like this stoked snowboarder Sage Kotsenburg who won the GOLD for the USA. It was one of those moments in sports history, that will forever be embedded in the hearts and minds of those who competed, and for those who coached, as well as their families and friends. And the millions of Americans at home who watched them.

It was a time to feel good about our lives, and our country.


"A proud swelling heart heals all wounds!"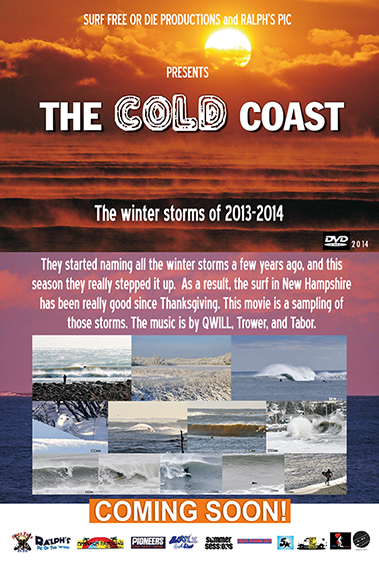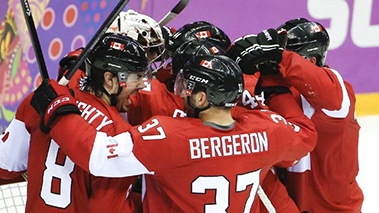 OK so you can't win them all. But Bergeron playing for Canada? Oh man that was not right. And Tukka Rask playing for Finland? WTF? It was like watching something from one of those Superman comics where everyone is in Bizarre World. Am I right people? Glad the hockey is over so we can get our team back together. Damn.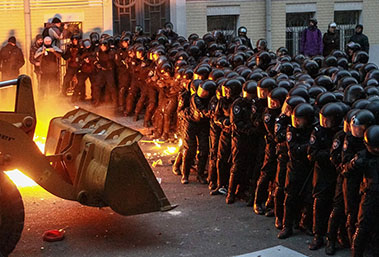 And while everyone was cheering at the Olympics, a few hundred miles away there was hardly any cheering going on. In fact, there was a whole lot of screaming coupled with a lot of violence. The Ukraine was erupting in major protests. And there is still no end it sight. The Olympics was a mere distraction to what is going on in the rest of the world.

Now for Some Of My Weekly Global Observances
The other BIG news stories of the week is the political unrest in Venezuela (Yes Joe Kennedy that Venezuela). Forget the oil that is helping a few families here and there with Joe Kennedy, and his giant toothy smile.

There is UNREST there. And people are dying.

The same political parties that Kennedy is hanging out with, are causing major problems there.




I know this is political. But you and I can't turn a blind eye to this kind of unrest. Not saying we put boots on the ground, but there are things we can do to help quell this unrest.

In other news. This clown is going to jail for 60 years. I'm all for the second amendment. But this Stand Your Ground Rule is a bit fuzzy to me. This guy could have easily driven away from this scene. Loud music? Dude? Drive away. Live another day.




Now you are going away for a long time. All for what? Loud Rap music? There's a lesson here for all. Roll up your windows and look the other way.

And now for my weekly humiliation of Khalid Sheik Muhummed (KSM) the mastermind behind 9-11. This week KSM is seen with the Ole Shoe Bomber. I guess there is a new threat with Al Qeada using shoe bombs again. So here we see the two asswipes together at GITMO talking about how to put a bomb in your shoe.

So once again, let's all take a minute, and enjoy the weekly humiliation of the mastermind terrorist who killed 3,000 innocent civilians on September 11th, 2001.




* Note to self. Must pick up a case of shoe polish at Home Depot this week.

ANNOUNCEMENTS:
HAPPY BIRTHDAY Lenny Nichols February 22nd, 2014!
HAPPY BIRTHDAY Phil Carey February 22nd, 2014!
HAPPY BIRTHDAY Elisa Allen Beriau February 23rd, 2014!
HAPPY BIRTHDAY Mike O'Neill February 23rd, 2014!
HAPPY BIRTHDAY Garret Krapf February 25th, 2014!
HAPPY BIRTHDAY Pete Jacobs February 26th, 2014!
HAPPY BIRTHDAY Kel Swell February 26th, 2014!
HAPPY BIRTHDAY Alex Ritchie February 27th, 2014!
HAPPY BIRTHDAY Justin Ambrosino February 28th, 2014!
HAPPY BIRTHDAY Paul PT Sullivan March 1st, 2014!
HAPPY BIRTHDAY Heidi LaShay March 1st, 2014!
HAPPY BIRTHDAY Erin Keenan March 2nd, 2014!
HAPPY BIRTHDAY Dick Messeroll March 2nd, 2014!
HAPPY BIRTHDAY Joe Somogyi March 2nd, 2014!

Our Thoughts and Prayers are with the Cropper family as James Cropper is facing some serious health problems. Your comfort to the family is welcomed by the whole Cropper family.

And please continue to send positive thoughts and prayers to our dear friend Debra White and family.

Please Support ALL The photographers who contribute to Ralph's Pic Of The Week every week for the last 9 years. **Think about BUYING a HIGH RES Photo from any of the weeks on RPOTW.

Remember my friends... Surfing Heals All Wounds.
Pray for Surf. Pray for Peace. Surf For Fun.

Ralph


Like us on Facebook