The circus that is the Mavericks contest, and the Superbowl. Plus, a Cold Snap that brought the city of Atlanta to a grinding stop.
For you longtime readers of this blog, you know, that I did not mention a single blurb about the AFC Championship game the week end before. And it's not that I was so devastated by the loss to the Broncos kicking the Patriots asses, it's just that it was not worth rehashing. And as I have stated prior to the game, the Patriots had no reason being in the AFC Championship game in the first place. Honestly. No business. I was not surprised, nor that crushed, that the Denver Donkeys beat our boys. We lost fair and square.

If anything, I was relieved. Now I know that does not sound very "fan" like. But the truth is, we have been to the big game 10 times now, and we have won 3 Superbowls. That's pretty damn good. So I have no legitimate complaints. Yes, I was disappointed, but I did not lose any sleep over losing to the Broncos.

And, I don't buy into the "dirty" play by Wes Welker on Talib.

It was a good hit. Plain and simple. Talib is much like the other guy who can't seem to avoid injuries. Gronkowski. Between the two of them, they spend more time nursing injuries, than they do actually playing. It's been a frustrating last few years for those of us who live, sleep, and drink, the Patriots. Not talking alcohol. Though a few more letdowns, like we have been experiencing since 2004, and I may just take up drinking again. Not.




I think the Broncos win. I think this is Peyton's year. Beating Brady for all kinds of passing records, and he just has a team that compliments his throwing style. Though I thought the same thing in 2007, when Brady went undefeated. Look how that panned out. Not good. I know my son, and my brother,will be disgusted to hear me say, that I want Denver to win, but hey, that's how I feel. I do like Peyton, and there's a part of me, that still likes Wes Welka. I'd like to see him get a ring.

And if he does? The sting that will bite Belichick will be so hard that we will all hear his scream. We NEVER should of let Welka go. NEVER! EVER!!!! Damn! Ok I'm good. I'm fine. Moving on here.

I am looking forward to Bruno Mars at halftime. This is the main event for lots of folks. That and the TV spots. I think Bruno has talent. Can't really say that about every artist who has performed at the Superbowl. PRINCE was great when he played. The BLACK EYE PEAS were good. The STONES however were awful, as were the WHO. Sorry my aging dinosaur friends. Life has not been good to you guys. Well it has, just not in the old age department.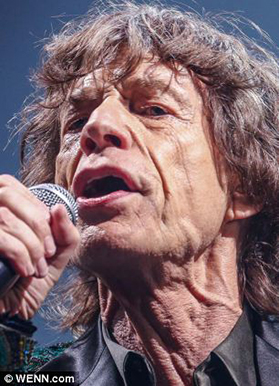 You guys looked terrible, and sounded terrible. That's why I'm looking forward to this young artist. I think he has a soulful voice. And I like his songs. The world will be watching tonight Bruno...break a leg.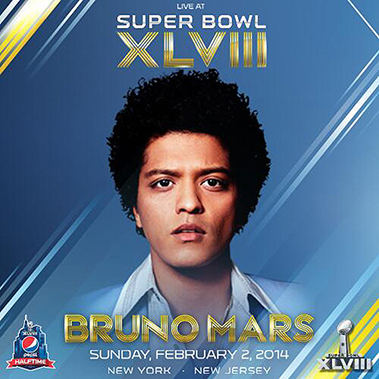 The Mavericks contest at Half Moon Bay last week has turned into a damn circus. I mean good lord. The channel was chock full of every floatable craft while the cliffs were full of just as many onlookers. Like CHOPES in Tahiti, the reef at Mavs is infamous for it's big dredging peaks that slam into that small arena. And the media is there in full force. Not to mention the hundreds of others who are just there to see it and feel it for themselves. It is a SPECTACLE!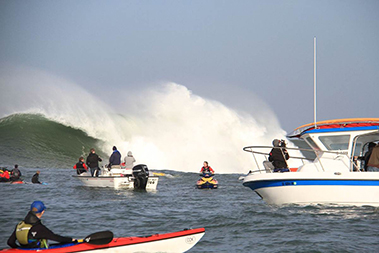 And to think that just 20 years ago, this insane wave was known to one man and one man only. Jeff Clark. For years Jeff surfed this beast alone. Can you imagine? ALONE? Whoa. That must of been heavy. Then he told a few friends and they told a few friends, and well, you all know where this is going. Mavericks became a Zoo overnight. Once the mags and the videos showed up it was over.
There has not been a day there since where it is not a full 3-ring circus when the swell is big enough.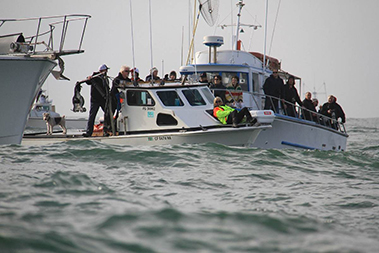 I'm getting seasick just looking at these boats bobbing in the channel. But I must say, the goods showed up in my inbox when the contest went down. From the Phantom to Ben Ginsberg. The MIGHTY MAVERICKS contest swell did not disappoint.

"Mavericks heals all wounds!" ?...ahhh maybe.
But then again, maybe not.








Just when I thought I'd seen enough of Justin Bieber, he gets busted again. This time in Canada. Justin buddy, what are you trying to do? Is this a cry for help? Or are you really this messed up? Honestly you are starting to worry those who live in Bieberland. Those teeney boppers don't know how to handle seeing you have a meltdown. You need to remember your fans. Those young boys and girls and creepy old men who adore you.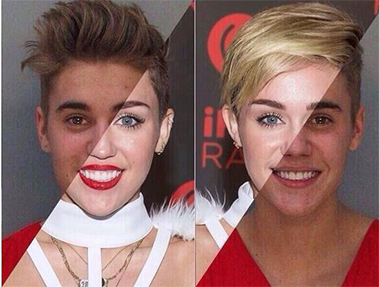 I know this is wrong but I couldn't resist. Besides, this is entertaining. And really this blog is all about entertainment to a certain degree. Yes, I'm slamming those who have fallen from grace, but do any of you think, they give one rats ass of what I say or do? Or for that matter, what any of you do?

Let me tell you. They do not. Hence my free reign to slam them whenever, and wherever I want. After all, it's called RALPH's Pic for a reason. I get to write and blog without any filters.

I do think Governor Christie is in BIG Trouble. And I heard that just yesterday, they have NEW allegations, that he not only knew about the bridge problems, but that he actually gave them the greenlight. If this is true? Ole Donut boy is in a deep fry. Be interesting to see if he goes to the Superbowl this weekend. He shouldn't be hard to miss.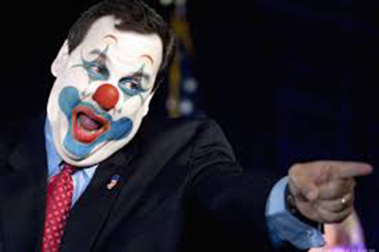 Just hope he doesn't get stuck in traffic.

Now for Some Of My Weekly Global Observances
The BIG news story of the week has to be the INSANE weather in Atlanta GA. Or rather the INSANE way they handled the two inches of snow and the icy conditions. Because I KNOW a lot of my fellow New Englanders were chuckling at the panic that spread across the south last week.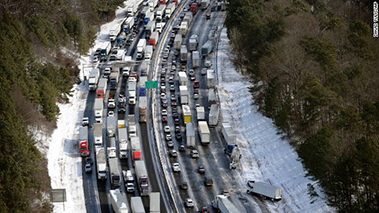 Come on admit it. You thought it was amusing.

The other BIG news of the week is Dennis Rodman's second interview with CNN. I have to say, that I was fascinated watching Dennis unravel in front of the camera. It was like watching a slow motion car wreck. The man is a bona fide buffoon. Today. Not talking about his time in the NBA, but now. Today. He is a loose cannon who provided me with some serious morning entertainment. Thank You Dennis. I will continue to stay sober after watching you.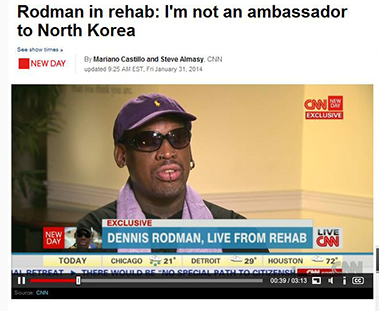 And now for my weekly humiliation of Khalid Sheik Muhummed (KSM) the mastermind behind 9-11. This week KSM is seen with the MEDIA at Media Week at the Superbowl. If you saw the NFC Championship game last week, you will recall the defensive back Sherman screaming that he was the BEST corner in the league! And screaming nonsense about Crabtree from the 49's. He made a complete ass of himself (surprised?). Any ways, here we find KSM nestled in with the media hounds.

Trying to get a scoop on Sherman.

So once again, let's all take a minute, and enjoy the weekly humiliation of the mastermind terrorist who killed 3,000 innocent civilians on September 11th, 2001.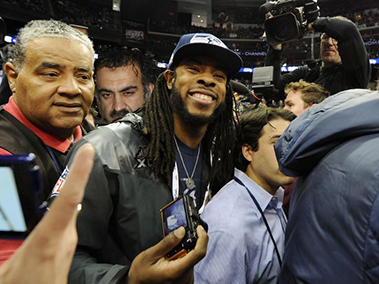 * Note to self. Must pick up a case of WD 40 for human hair at Home Depot this week.

ANNOUNCEMENTS:
HAPPY BIRTHDAY Jean Dombrowski February 3rd, 2014!
HAPPY BIRTHDAY Jacques Beriau February 4th 2014!
HAPPY BIRTHDAY Mary Ellen Torrisi February 5th, 2014!
HAPPY BIRTHDAY Bryon Rivers February 6th, 2014!
HAPPY BIRTHDAY Susie Forsberg Anderson February 8th, 2014!
HAPPY BIRTHDAY Christian Del Rosario February 9th, 2014!
50 YEARS AGO February 9th, 2014! The BEATLES Play on Ed Sullivan! I remember it like it was yesterday.

Our Thoughts and Prayers go out the White Family. Be tough Deb, stay positive and Whitey remain the pillar! We LOVE you guys.
GET WELL Dr Brent Reinheimer.
Get Well soon to Patrick Meehan !
Rest In Peace Pete Seeger !

Please Support ALL The photographers who contribute to Ralph's Pic Of The Week every week for the last 9 years. **Think about BUYING a HIGH RES Photo from any of the weeks on RPOTW.

Remember my friends... Surfing Heals All Wounds.
Pray for Surf. Pray for Peace. Surf For Fun.

Ralph