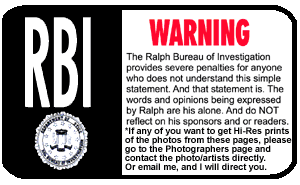 The Westies Came To The Land Of Easties on Pearl Harbor weekend and pull off a surprise attack of their own.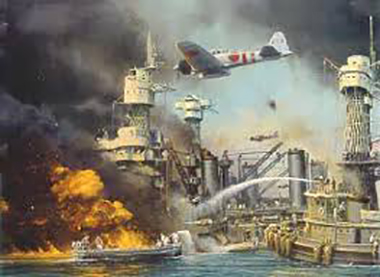 December 7th, 1941. A Day Which Will Live In Infamy.

It's rare that someone can pull the wool over my eyes. Not that I'm some super sleuth who can smell a rat a mile away, but rather I've always had some sort of sixth sense that has gotten me out of trouble more times than not. However, that mojo was not working in the last week or so. Though now looking back at the little clues, I should of seen the telltale signs that something was brewing in my domain.

But I shrugged off these insignificant clues, and went about my days.

I need to back up a bit here, and fill you in on some quick Ralph surf history. Back in 1978, the surf community lost an icon when Joe Somogyi passed away. My friend the late John "JT" Taylor and I were very close to Joe, and we wanted to get away from Hampton, and the cold winter and head for the tropics.

We picked Tortola under JT's suggestion. (Like I had a choice?)

January 21st, 1979 we landed in Tortola BVI. That's where we met
Jeff Chamberlain and Sam George. This was Sam's first surf trip.
Sam was at that time, the hottest surfer that JT and I had ever seen.
We all became instant friends and we ended up staying at the same house as Jeff and Sam. Ellie's house on the hill, overlooking Little Apple Bay. This trip was one of those magical surf trips where all the elements came together.

The vibe between the two different surf cultures had melded together with the same thread that binds us all. Surfing. We were all surfers.
Sam was an upcoming pro, and Jeff was a photographer. JT was a good surfer and I was a photographer. We all hit it off and had the time of our lives. 35 years ago.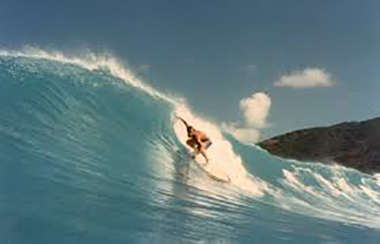 Jeff took this photo of JT dropping into a perfect tropical right.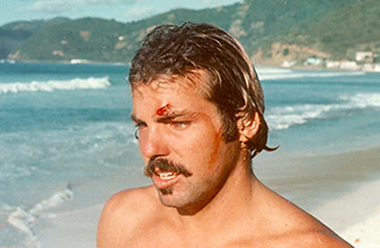 I shot this pic of Jeff after he had an encounter with Sam's board.

Sam is featured in the yesterday section as well as the video clip of the week. They both went on to have successful careers in the surfing world. Jeff a prolific writer and photographer penned a few noteworthy stories in the SURFER'S Journal among other mags.

Sam went on to become editor of SURFING and then SURFER. He has traveled to 42 different countries and has written hundreds of articles about surfing. He's directed some of the biggest surf movies to ever come out of the "real" surf scene. RIDING GIANTS, HAWAIIAN-The Legend of Eddie AIKAU, and HOLLYWOOD
DON'T SURF.

Suffice it to say, they both stayed with surfing in one form or another.

I kept in constant touch with Jeff over the years, and would talk with Sam from time to time. Sam printed this piece (opposite column) in SURFING in 1986. I am pretty sure we were the first band to use surfing in a video.

We never made it big. But that's another story.

Jeff and I stayed in touch for years after Tortola and then we kind of drifted apart. I got back in touch with him during my CATCH A WAVE FOR GUS year. Jeff was blown away by me contacting him, and he ended up writing a beautiful story about my year long undertaking. It was printed in SURFER and Sam was the editor. That bond was still there. He called the story SEMPER FI.

I was beyond touched by it. So much so, that I planned on going out west to see the boys when my year was up. In the winter of 2002, I flew out west and landed in Central California. And I got to see my good friend Jeff Chamberlain for the first time since 1979.

While there I met and became friends with all the Westies. Doug Hendry, Robert Gerard, Steve Wheeler, Brad Hair, and Wally. There was one westie Rocky Vanucci, that I never got to meet. But I did speak on the phone with him several times. And we were email buddies. Year after year. We all stayed in touch.

A new bond was forged with the westies after that great trip.

When Jeff turned 50, I wanted to surprise him, so I flew out with then 10 year old Mackey V, to visit the westies. It was another great trip. Unfortunately both trips to Central Cal did not coincide with Sam's busy schedule, so we never got to meet up.

But as a surfer, it was hard not to read and see Sam everywhere.
So I kept in touch with him like most surfers do. In the media.

Meanwhile I was fast becoming close to the other westies. Like Jeff once said, the biggest breakthrough in modern history has to be the Internet. The ability to stay in touch via email, PM, and texting has kept us all in touch. They all followed my CATCH A WAVE FOR MOLLY year. They knew all about my local surf films. My blog. My family. My friends. My music. All through the Internet. They also knew about my personal problems. And it was during this time, that their true friendship came to the surface.

I felt the love and support from across the country.

And when the latest news about my negative results reached them, I could feel their concern. But I am always the optimist. I simply pay no attention to it. However, not everyone feels like I do. My wife and kids, my close friends, my siblings, and nieces and nephews, they are all concerned.
I am not. None of us has a crystal ball, so who the hell knows what is going to happen to any of us. You know what I mean. Why bother feeling bad, when you can live your life and do what you have to do
to get by. That's my attitude.

So you can imagine my complete surprise, when on Friday morning at 10AM, six of the Westies walked through the door and into my home office. One after the other. Doug Hendry, Robert Gerard, Steve Wheeler, Rocky Vanucci, Same George and Jeff Chamberlain. I was stunned and just blown away. In fact 4 days later, I am still not believing that happened. But it did.

And for the next 2.5 days we crammed in more visits, and more tours then I have in the last year. I showed them every single break from Mass to Maine. It seemed surreal. But whenever one of us would crack up, we knew what it was. It was surfers being surfers.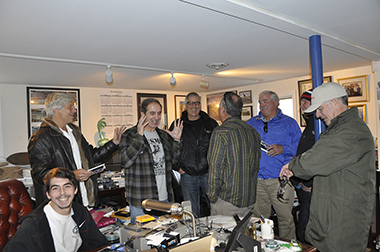 And my WESTIES even got to surf. Sam who is the perpetual stoked grom wanted to surf every other break. It was so funny. And they saw some snow flurries and they started freaking. "Get a photo of me standing in the snow!" Truth be told there was only a dusting on the ground. All I could do was laugh and shake my head. There are photos from both days down in the galleries.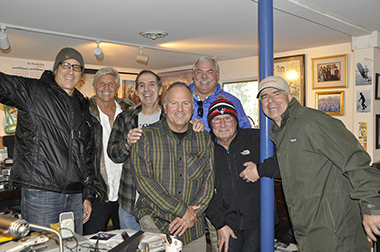 This photo says it all. We're all smiling and laughing. Just an amazing feeling for all of us. I am still shaking my head.

We ate at KB's, Flatbread, and the North Beach Bar & Grille.

But the big feast was at the house. Where they were all treated to Cory's homemade sauce. We all ate like kings that night. I showed them my movie THE COLD COAST, and they got to see the spots I had showed them the day before really come to life. Of course they also saw the cold and the REAL SNOW.

Somehow, I don't think they wanted any part of that.

Later we had an impromptu jam. We pulled up some backing tracks on YouTube, and with me on guitar, and Sam on the Harp, we played the blues right there in my office. It was a gas.




I tried to introduce them to as many friends as I could in that short window. There's never enough time. But they got to meet Dave Cropper (who helped them out with suits and boards), Tony Berardini who blew their minds with the Rock connection, Jay Gould who showed them the original Rick Griffin painting for the movie PACIFIC VIBRATIONS, and we stopped by Kevin Grondin's house. And of course Johnny Meehan, who was in on the surprise visit.

There were others who met them at the beach and at the restaurants. Jacko stopped by on the last morning and shared some laughs. We talked story and shared life experiences with one another. And just as fast as they showed up they were gone. Two and a half days. But they were two and a half days that will stay with me forever.

Talk about a whirlwind tour. We did so much in that short window. The only thing that suffered was getting this blog out on time. I think this was a good excuse. All in all it was a great weekend. Seeing Sam for the first time in 35 years, and seeing the others for the first time in 10 years. Time is irrelevant. Being with them all, was like I had just seen them the day before. It was seamless.

As old as we all are, I felt like I did in 1979. A young energetic surfer, hanging out with my close friends, and sharing stories about surfing. My only regret was, I wished JT was still with us, he would of gotten a kick out of seeing Jeff and Sam again. But that's life.


"Friends and Surfing Heals All Wounds"