Electra, Pipemasters, TIME Picks the Pope as "Person of the Year", Weird Sign Language, Saying Goodbye to Vic Lessard, and the Patriot's magic finally fizzles
in Miami.
I am still getting used to the naming of winter storms. Though I must admit, I like the sound of Electra. And she was quite the storm. The wind was howling for it's darling all night long. The wind blew and the snow grew. By dawn's early light we had ourselves a significant snowfall. I guess we'll be having a white Christmas after all.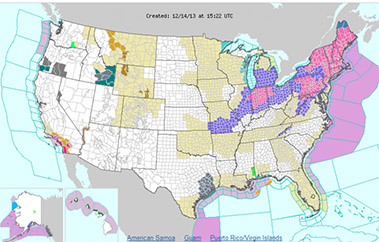 Not really into the white stuff. But I certainly can see the beauty in it all. Just not into having to remove it from my driveway. Especially when my snowblower breaks down every other storm. As it did this time. Got both driveway snowbanks clear, before Old Red broke down. And young Max (my back up plan) was out surfing.

The surf from Electra was HUGE! And impressive.

Still, I could of used the manual labor earlier in the day, as to having to wait for him to surf. I know that sounds sheepish on my part. But one of the things about being a surf dad is, I remember what it was like when I was young, and wanting to surf winter storms. My dad didn't surf per se, and it was always difficult in trying to explain my passion for winter surfing. He eventually got it late in life. But it was a constant struggle in the beginning.

So my son benefited from my early experience. He surfed today.

Watching the Billabong Pipeline masters surf contest yesterday live on the Internet didn't help either. Max and I watched, as the best surfers in the world tackled the best waves in the world, live on the Internet. And it was nothing short of amazing. It truly was.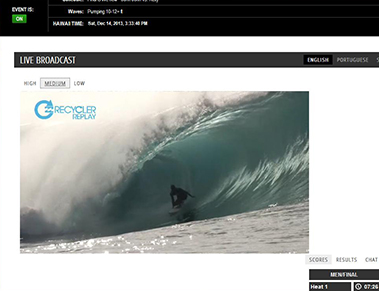 This is 41 year old Kelly Slater from Cocoa Beach, Florida in the finals. He beat John John Florence in a close heat. It was, and still is hard to believe that we can watch live streaming video from Hawaii, while sitting at home in the frozen tundra, that is New Hampshire. I mean look at that wave! Are you kidding me?

It's no wonder Max wanted to surf today. If I was his age, I would too.

But thank God I am not. Because I have no desire to want to get into a winter wetsuit these days, and paddle out into freezing cold water temps, and equally freezing air temps. Homey don't play that game anymore. I've filled my winter surfing quota thank you. Twice now. 2000-2001 and 2010 -2011. My winter surfing days are behind me.

But I will gladly brave the cold to document anyone willing to paddle out. That certainly includes my son Max. See below.




While not as big or as hollow as Pipeline, our waves are equally as dangerous. And I'm not sure how many of those Pros could handle our surf, in our extreme conditions. My guess is, not many.

Which suits all of us just fine.

l am done with putting lights on the house and bushes. Especially since Electra dumped all that snow on us. Whew! Hey, I guess there was silver lining in that dark cloud after all. Though I'm pretty sure, I won't be up for the "Chevy Chase Christmas Lights of the Year" award. I do think I did enough.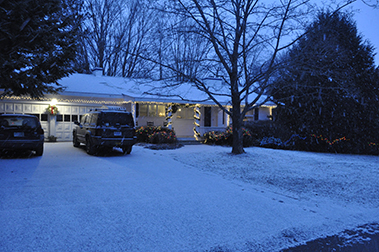 I took this photo just as it was starting to come down.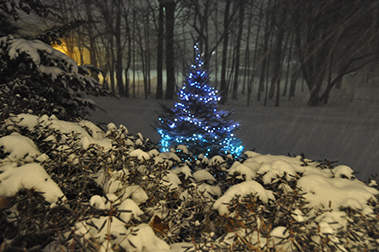 And this one when it really was winding up. I thought for sure we would lose power, but we didn't. Living here all my life you kind of halfway expect those things to happen. Tis The Season.

And speaking of the season. TIME magazine has named Pope Francis "Person of the Year." I like this Pope. Of all the Popes I have seen over the years, he does seem to be the most progressive of all.
I like his attitude, and his stance on subjects that were almost taboo in the Catholic Church before he was Pope. And I especially like the fact that he refuses to drive around in the "Pope Mobile" and instead, drives his own used vehicle. Like I said. He's my kind of Pope.




Merry Christmas Pope Francis. This is your "time" of the year.
And once again, a little play on words, using my mantra of "Surfing Heals All Wounds" by saying "Smiling Heals All Wounds"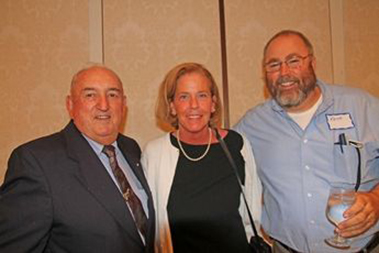 Longtime local Icon Vic Lessard passed away this week. Vic pictured here on the left, with Kelly Britton, and his son Keith was a good man. I can honestly say, without any hesitation, that "Vicky" was one of the people in this town of Hampton, who truly cared about what was best for the town.

He helped me out back in the early 90's and spoke on my behalf. I never forgot that. I've known his brother Paul just as long, as well as his sons. Kenny and Keith.

Vic will be sorely missed by all who knew and loved him. And I want to send out my most sincere condolences to his family and friends, who number I'm sure, in the thousands.

Last week we said goodbye to Rob Gronkowski and perhaps the entire season for the New England Patriots football team.
But we all believe in Bill so much, that we all figured that Bill would save us. That Bill could somehow salvage our season and keep our dreams and hopes aloft. Well...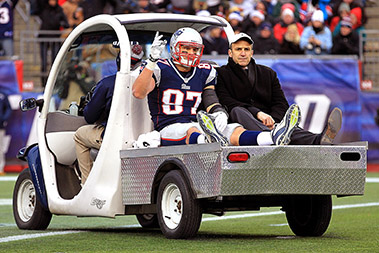 ...today the Patriots were in the process of coming back after being behind for the 4th consecutive week in Miami today, only to fall short. They lost 24-20 and also, missed a golden opportunity to not only take the AFC East title, but to take the Number One slot in all of the AFC.

The Denver Donkeys retain that position, and we slip back to number two. Talk about missed opportunities. And I'm sure most of you will agree, that there were two interference calls that were not called in the last two plays, before the final interception.

Even the damn announcers said. "In a regular game, that would be interference, but not in a game like this." Really? What the hell does that mean? Either it's interference or it's not. That's crazy.

The end of that game, was just like the last 3 weeks.

And I'm sure, all of Patriots Nation sat on the edge of their seats, biting their finger nails, waiting and watching, and PRAYING for that last minute comeback. But not today folks. Not today. Oh well, it was still exciting.

Now for Some Of My Weekly Global Observances

Please tell me you all saw the phony Interpreter on TV this past week during the Mandela Memorial service. Oh my God. This clown stood inches from our president. I mean, he was inches from the President of the United States. Really? This bonehead who claims he is suffering from Schizophrenia was standing behind Obama? What the hell? His name is Thamsanqa Jantjie and he is something else.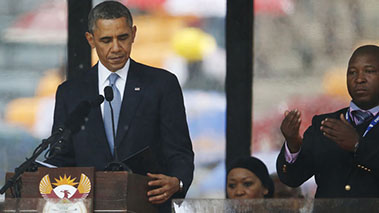 Look, I'm just saying that the secret service needs to be a bit more on their toes than this. You can't let the leader of the Free World rubbing elbows with a loose cannon like this. Come on! I did not vote for Obama, but I certainly don't want to see anything happen to him. He's our president. For good or for bad. He's ours.

And, we need to protect him from lunatics like this.

Though I must admit, it was easy to pick out what I was going to do with our boy KSM this week. Ha! That was a no brainer.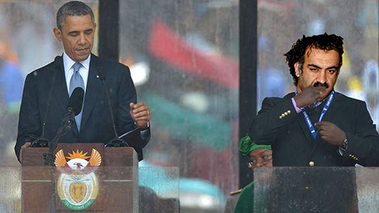 And now for my weekly humiliation of Khalid Sheik Muhummed (KSM). Again, I know that the Terrorists do not sign or use brail. But this is more like it. In fact, this is more believable. After all, we all know that KSM can't sign. And I'm not sure I know anyone who signs.

Heck, I'm not sure I know any hearing impaired people. But I know they are out there. I just know that those who use brail and sign language were bowled over by the audacity of this buffoon. It was both humorous and scary.

So once again, let's all take a minute, and enjoy the weekly humiliation of the mastermind terrorist who killed 3,000 innocent civilians on September 11th, 2001.

* Note to self. Must pick up a case of SIGNING FOR DUMMYS books at Home Depot this week.

ANNOUNCEMENTS:

HAPPY BIRTHDAY Donna Baldarssari December 13, 2013!
Get Well Soon Mary Kirby!
Rest In Peace Nelson Mandela.
REST IN PEACE Peter O'Toole.
MERRY CHRISTMAS and HAPPY CHANNUKUH!!


Please Support ALL The photographers who contribute to Ralph's Pic Of The Week every week for the last 9 years. **Think about BUYING a HIGH RES Photo from any of the weeks on RPOTW.

Keep in mind the photos you steal from this site are low RES. You can't blow them up. Order HIGH RES photos that are suitable for framing. It's a GREAT Gift Idea. A nice framed photo of your favorite Surfer or Surf Break!
Remember my friends... Surfing Heals All Wounds.
Pray for Surf. Pray for Peace. Surf For Fun.

Ralph