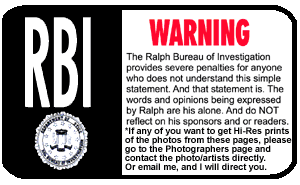 One Year later. The spirit of Rick Savastano still lives.

Just think. It was 730 high tides ago, and 730 low tides ago,
when Rick Savastano went on his final paddle. Alone. He paddled south from the northern end of North Beach, to Boars head and then back again. Imagine paddling by the beach he grew up on and loved.

He had to be reflecting on all of it. His whole life. Family, friends,
|and loved ones.

The 60's, the 70's, the 80's, the 90's and into the new millennium.
Within a few weeks after this photo was taken, he was gone.
Just like that. Gone.

We say it all the time, "can you believe it's been a year?, man does time fly, it seems like yesterday..." They all are appropriate here. Because it's all true.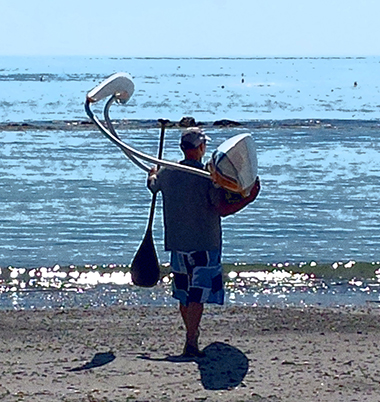 The truth is, Rick Savastano has been gone one year. For most people, the passing of Rick is just a 'time to time' thought that may pop into your head. But for those who truly loved him and miss him,
it is a daily mourning. Some days are better than others, but the pain, it's still there.

There was talk, that there might not be a Papa Oo Mow Mow this year. The Savastano clan were on the fence about whether to have it, and more importantly where? Well, niece Alyson and her husband Jona stepped up to the plate and pitched the new Papa Oo Mow Mow tent on their property in Hampton.

The spirit of Rick was there all night long. A wonderful gathering.

And it was there the night before, when a somber beach ceremony was conducted on the actual date of his passing.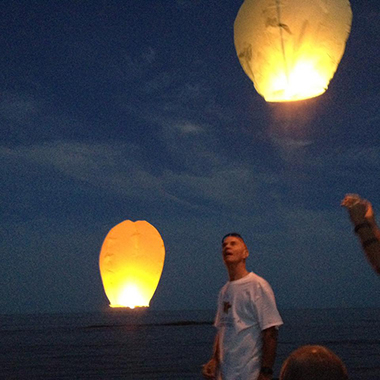 It was beautiful to see, and even more spiritual if you were there.
Look at Tony's face. That's spiritual. I wished I was there.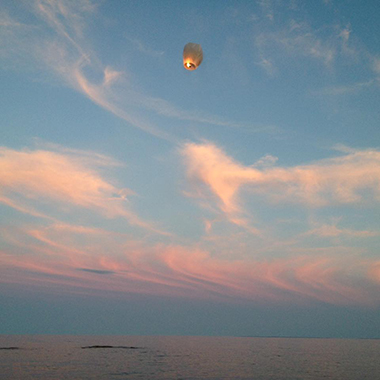 A diamond in the sky. All for you Rick.




Rick and Tony sending off another one...


And at the party last night, there were close to two hundred people in attendance. Rick might not have been happy with that number at his old house, but he had to have been smiling down on his Ohana and his friends during last night's gathering.

Typically, my band would be playing. But with this being the first night, Dave Cropper and I played our Acoustic guitars. It was supposed to be three of us, but the other player had some kind of stage phobia. Regardless, we had fun playing together. But next year? We're bringing the band.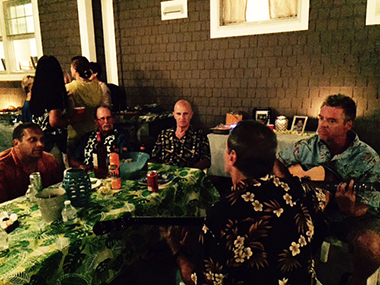 The Brothers 'sans' Frank B. I heard that "he" was kicked out of the band. He will not be on the Flatbread tour. It's a shame because all that rehearsing went down the drain.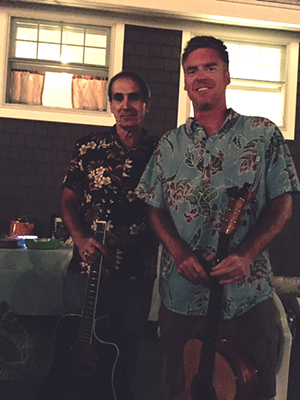 Thank you very much, and I hope we passed the audition.
Looks like Dave is quite a bit taller than me. But I think he's
either in high heels, or he's standing on a stool. Or...I am that much shorter. Shit, I've heard that the older we get the shorter we get.

Earlier in the day, Rick Evans took it upon himself to do a little cosmetic work at Retirement Cove.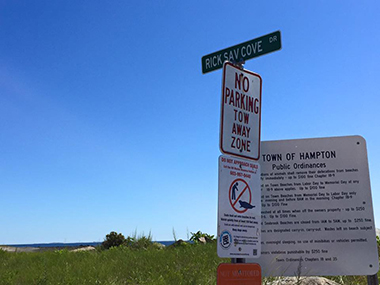 Rick Sav Cove. For one weekend at least.




Happier times at the annual Papa Oo Mow Mow.
The Savastano Ohana. Rick, Barbara, and John.
RIP Rick.

LAST SURFING WITH SMILES of the Summer.




SURFING WITH SMILES This coming Thursday.
They could use HELP. Hey I just thought of a great idea
(said the shameless self promoter) After Surfing With Smiles
is over, you can all stop by Flatbread in Hampton to get a
pizza and hear some tunes.



Next Big Events here on the seacoast....
OCCY at Cinnamon Rainbows August 16th, 2015.
HIT THE BEACH VIII . August 28th, 2015



"Surfing, Community, and Love and Heals All Wounds"