The Long Goodbye to the Summer of 2013
..
"Bury the head!" the tanned little girl yelled to her sister as they playfully buried their daddy up to his neck in the white sand. Their laughter filled the air. The dad however laughed nervously, as the tide crept up around his entombed body.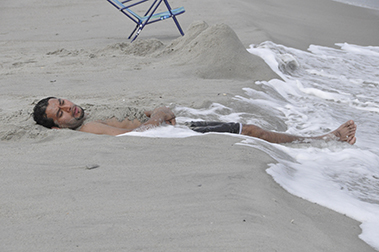 I watched this playful summer scene unfold, while sitting on the sand at Myrtle Beach in South Carolina, writing this week's blog. And a few yards from where this dad was being buried, I watched in total fascination, as perfect mini-A-frame peaks unfolded in front of me.


Surfers are jaded. And I am one of them. Talking about both being a surfer, and being jaded. In the past, I would have sneered at the thought of Myrtle Beach and Surfing in the same sentence. But here I sit watching perfect thigh high peaks peeling off on this sandy beach.

And I have no surfboard. Heck, I don't even have a boogieboard.
Why am I here? Well, my wife and I are here to drop off our youngest child as she heads off into her freshman year at Coastal Carolina University.  Why would I bring a board to Myrtle Beach? There is no surf here. Or is there?  Well, yes and no. At low tide, at certain parts along this long white, sandy, beautiful beach, there were ridable peaks. I know this, because if anyone knows anything about riding waves that are borderline non-existent, it's me. Mr. I can ride a 6" wave if I have to – and I have many times.
So you can imagine my frustration when I woke up at The Breakers Hotel this morning, and saw some ridable waves.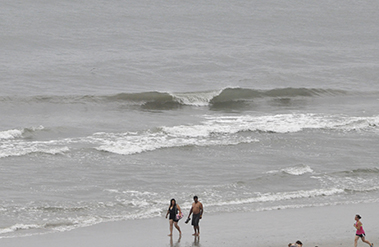 Clearly, that is a wave that can be surfed. Look, I know it's not world class. But dammit that is a wave! And I had no board.

After we said our last goodbye to Noelle on this last day, we had another four hours to kill before our flight home, so we went back to the beach.
What else would a surfer do?
Much to my surprise, the sun popped out and the surf cleaned up, so I jumped in. And, I went body surfing. That's right. Back to the basics. No SUP, No boogie board. Just me. Body surfing. And, I had a blast.


The water was warm. Warm? It was tropical. And the mini peaks were beautiful. And I felt at home in the ocean again.
"The sea is the cradle we all rocked out of, and it may be the homeplace to which we will someday return." – Tom Robbins (from Half Asleep in Frogs Pajamas)


It was sad saying goodbye to our baby. I know it will hit me in the next few days or so, this empty nest that is now our home. The mere presence of her energetic personality will be missed by all of us. And look, I know she will be home by the Holidays. It's just that for the last 18 years she has been here. In our home.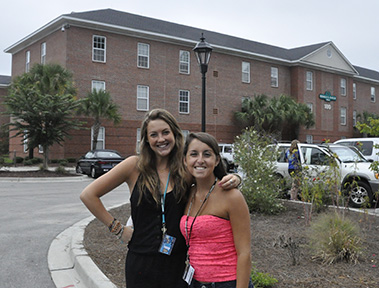 Noelle and her roommate Lexi at CCU on Saturday. She really seems happy to be there. And I'm sure she will do great and make us all proud. So me getting a little emotional, was just just me being myself. I tend to do that.

But I'm happy to say, that the ocean once again saved me. And it came in the form (of all things) body surfing!

And for the millionth time in my life, my mantra was ringing loud and clear, in my heart, and in my soul.

"Surfing heals all wounds."