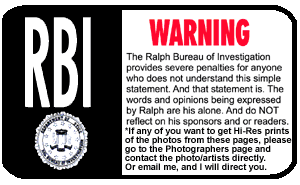 Ruptured Ear Drums, Surfing with Smiles and Slyders.

Thursday August 13th, 2015 was supposed to be a memorable day for me. It would be the first time I surfed since last August. A whole year passed me by. Suffice it to say, I was a bit anxious to get back on my board. Even though the doctors didn't want me to surf just yet, I couldn't stand it. Standing on the beach taking photos in February is one thing, but standing on the beach on a hot August day with perfect waist to chest high waves? Well that's a whole other animal.

I had shot earlier in the day in the water. So I knew how warm the water was . I was back in my studio by 12 noon when Max called and said the surf was really fun. And he added, don't shoot any photos, just paddle out and catch a few with us. I thought about the doctors orders and honestly, those doctors at MGH don't surf. So Max was actually making more sense than the docs.

Whoa, did I just write that?

Oh what the hell, I grabbed my 9'0 and headed down to the wall. I paddled out after doing a few stretches, and putting my ear plugs in I proceeded to paddle out to join my son, and my friends. I have to say it felt so damn good being back in the water. It has been too long.

I got to the line-up at 10th street and sat off the jetty. The right that I am fond of (Ralph's Rights) was working perfectly. A set came and everyone backed off and they graciously allowed me to take the first good one in the set. I paddled hard when I heard Skip say "The moment of truth." Dammit, why'd he say that? Hmm mm, I blew it. I missed the wave. And if that wasn't bad enough, I missed the next 10 waves I paddled for. To say I was frustrated would be a grave mis justice to the word Frustrated.

Somehow by the grace of God I was able to catch a left. Then I followed that by catching a decent right. All of a sudden things were starting to gel. A pretty chest high wave popped up on the sand bar and I swung my 9'0 around and started to paddle. I was being too damn casual, and when the wave pitched I was pitched with it. I landing flat on my left ear with a loud slap. My ear plug was blown out of my ear and I felt the all too familiar vertigo take hold.

Long story short, I paddled in, got sick to my stomach, I got to the rocks near the jetty and sat down. My son Max and his buddy Shane came down to see what was going on. Skip Brunette brought some water. I was more embarrassed than anything. I knew I was hurting, but my pride and ego were also damaged. I felt like such a failure.

For the record, I have ruptured my ear drum twice before.

The first time in February of 1977. It was during a snow storm. I was surfing off of one of the right points. I had NO HOOD on. I had just had a few nice long rides when a big set started to march into the take off spot. I swung my 7'0 single fin Nomad and paddled for the biggest wave. The wind was howling that day and a big gust caught me at the top of the wave. I got to my feet, but the wind was holding up my board. Then without any warning, the lip pitched out and caught me off balance. I free fell down the face and landed flat on my left ear drum.

I hit so hard that I could actually hear the sound. When I resurfaced, I realized that my world was a spinning wheel of vertigo. I could not make out the horizon as it was moving so rapidly in a constant turning motion. I immediately got sick to my stomach. I mean sick sick. It was awful. having never experienced anything like this, I knew enough to paddle out and into the channel. I could not stop the spinning.

I remember finally making it to shore that day and climbing up the rocks to where my vehicle was parked. Steve Clark was driving by and he pulled over to talk about the surf. I told him what had happened. He suggested I go and get the ear looked at. I did and it was confirmed that I ruptured my ear drum.




There really is nothing they can do for eardrum rupture. It was basically keep it dry for the next couple of months. Say what? Oh yeah. Keep it dry. Ugh.

The second time was during Hurricane Gabrielle in 1989. My wife was pregnant with our first child. I had once again ruptured the same ear drum. This time I was paddling back out after catching a nice long right. A big set roared up on the outside reef as I paddled hard to get under it. As I started my duck dive I turned my head slightly to the left. That was a bad move. The thick lip shot up and over and landed directly on my left ear. Again, the impact was insane.

The same thing happened. Instant vertigo. Instant nauseous.

This time I was not alone. Though it wouldn't matter any way. I turned to a friend and asked for help. And he just looked at me and smiled. WHAT??? I called out to him several more times, but he would only paddle away. Later when I saw him at Kevin's house after my ER visit. I yelled at him." Why the hell didn't you help me?" He looked at me and said, "I thought you were kidding." "What? Kidding? I needed help out there.!" That's when he said the words I'll never forget. 'You're Ralph, you never need help." I wanted to slap his big silly face, but I was in too much pain.

The good news to this story was, I said to my wife, "If the baby is a girl, we should name her Gabrielle." My wife agreed. And well, Gabby was born 9 months later. Gabrielle Marina (Marina means Of The Sea). The name seemed appropriate enough.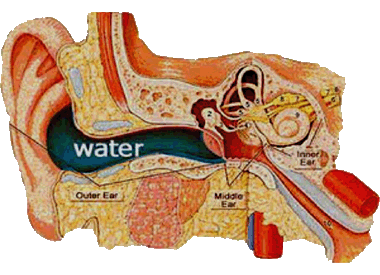 Getting a ear infection, or a ruptured ear drum is no laughing matter.
So do yourselves a big favor. WEAR EAR PLUGS!

Later that night, the last "Surfing With Smiles" event happened.




It was another great success. Giving back to those in need by teaching them to surf, "Hence the name, Surfing With Smiles."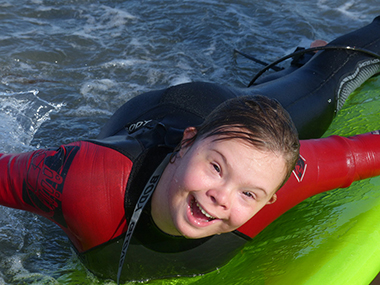 Right there is a big ole smile. The healing power of the ocean and specifically the surf, can last a lifetime.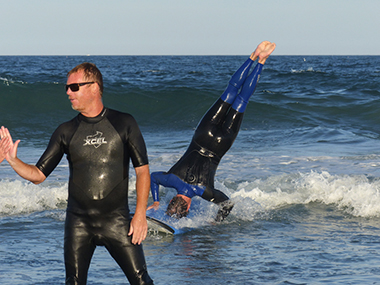 Speaking of smiling. Kevin Grondin added a little flair with this
hand stand. There's a whole two galleries of Surfing With Smiles
an the ENDLESS SLYDE on the blog this week.

"SURFING HEALS ALL WOUNDS"