August 15th, 2010 the SURF ART COLUMN


The Surf Count of Waist High Or Better

is

24 out of 26 weeks...

"Imagination is more important than knowledge." So what genius wrote that? Take a guess. Bam! Albert Einstein. A real genius who understood the power of imagination. And with this week's column being the Annual Surf Art Column, it seems fitting that I would start off by mentioning imagination. Because, I never met a Surf Artist who didn't have an active imagination.

There was a time in our surfing lifestyle, where the only way you could ever imagine a surfer actually surfing on a 50 or 70' wave, was through surf art. Of course, that has all changed. But prior to this new found ledge and outside reef surfing, it was the surf artist who sparked the imagination. Back in the 60's and 70's when John Severson and Rick Griffin captured our wildest imagination by drawing little surfers riding huge waves. Of course that's a reality today. But back then? Oh my God it was unthinkable. Except for the wild crazy drawings and paintings by surf artists.

Jay Gould has a collection of surf art that would rival any collector. He has one or two of those Severson's that I spoke of. He also has some amazing collections of my all time personal favorite artist, Rick Griffin. Back in the 60's when Griffin introduced us all to that little character named Murphy I knew that I wanted to be both a surfer and an artist. I was fortunate enough to become both. I can remember drawing in class when I was supposed to be paying attention to my teacher. In fact, one of the drawings posted today is of my old friend and fellow artist Thom Trembly.

Thom and I were enamored with surfing and Rick Griffin.

God I wish I had some of the drawings that Thom and I did back in those days. We had made up our own Characters. "Stonewall and Fern." Don't ask me where they came from. But remember my opening line..."Imagination is more important than knowledge." Well, Thom and I were bursting with imagination. We would draw these characters and use them as our escape to some distant California beach scene and pretend we would be surfing and skateboarding in our make believe world. I'm sure if Thom were to ever stumble upon this blog he would agree. Those were special times for me as a young surf artist, and a young surfer.

Thom moved to Florida in the late 70's, and I lost track of him. But trust me when I say, he was one talented artist. The drawing The HOT Dudes that I am posting this week, featured Thom, myself, and another friend, Mike Costa. We used to drive around the city of Boston back in those days, and look for places to skateboard. This drawing is a depiction of those times. I just recently got reacquainted with Mike, but Thom is still out there somewhere. Mike said, he is not surfing, nor is he drawing. He has a debilitating disease that hinders him using his drawing hand. Thom if you do get to read this, I wanted to thank you for sharing some of my most fondest memories as an artist.

I learned a lot from you. And you had a very special gift.

And speaking of special gifts from local artists. I need to mention a handful of my friends who I think are really talented surf artists. And for those of you who are not surf artists, I can't stress this suggestion enough, and that is, somewhere in your home, there is a spot on your wall, for a piece of original surf art. If you are a true surfer who has a deep appreciation for this wonderful lifestyle we all love, then you need to get some surf art for your home. It is as important as surf photography.

OK so where was I? Oh yea, my surf artist buddies.

My first friend is Stan Chew. I've known Stan the longest of my current surf artist friends. Stan is another fan of Rick Griffin and you can see the influences in his work. But I will stop there, because Stan is a unique artist in his own right. His use of color and the way he applies his paint has given him a unique and distinct style all of his own. I can spot one Stan's paintings a mile away. Seriously, put one of Stan's paintings in a sea of surf art and I will pick it out most Ricky Tick.

He is an artist in every sense of the word. He plays guitar and has created and developed one of the most sought after Surf Camps in the Caribbean. Island Path Panama. In fact, if you really want to see some of Stan's paintings up close and personal, book yourselves a surf camp vacation this coming year. Why? Well, all of Stan's originals are hanging in each guest room. But that's not why you'd go there. You would go there, to surf the waves that inspired his beautiful paintings.

Be sure to tell him that Ralph sent you.

The next local artist is my friend and fellow surfer Alex Deconstant. Much like Stan, Alex has a unique style. And much like Stan, one of Alex's main influences was Rick Griffin. But Alex also steps away from traditional painting and drawings, and into his absolutely amazing woodcuts. His woodcuts are so neat. I love his stuff. Alex has this dry sense of humor that goes along with his quirky but stylish art. I like being around him. His creativity comes from his deep New England roots that is based in the surf.
And that surfing Tomato over on the next column...well, that's one of Alex's.

Another old friend who I've known for years is, Corey Howard. I've know Corey since he was a young Grom. I've known the whole family for decades. His uncle Robin is a dear old friend, who I have surfed with since the early 70's, and Robin himself, is an artist. I know his younger brother Kyle. And his late mother Wendy is on my surfboard that I'm using for for my Major Surf Undertaking. But this is all about Kyle the artist. I don't know where, or how it all came about, I just remember a few years ago, Corey sent me some paintings he did. He's been a regular contributor ever since.

Another local standout artist is Erik Zak. If we are going to talk about unique art, well Erik Zak would have to be high up on that list. His amazing wood carvings have been a favorite of many local surfers for the last 10 years or so. Wood carved waves are so cool. If you don't have one in your home, you need to get one. They are unlike anything you have ever seen as far as surf art. I love mine. In fact, I look at it every single day. It sits on top of my HD TV. Talk about the clash of two words. Erik's wood carving and HD Television.

Another old artist friend of my family is DC Langer And DC is another unique artist who's work is so vibrant with color, it almost seems that she invents these new colors herself. They are super cool and super hip. Check out her South Beach Mush piece.

But when I think of new up and coming surf artists who really have a handle on the surf art scene it would have to be without question. Hannah Vokey. Hannah loves to paint.
I know that seems generic, but it's true. She loves to create surf art. And create she does. No one I know puts out as much art as Hannah does in a year. From her amazing Mural down at Zappy's Beach Bagel Shop in Salisbury to her Hampton Wall series. She is constantly producing great works of art.

She did a piece of Shaun Tomson from a Dan Merkel frame grab that is so cool. And her surf scenes in the tropics are so warm and tropical you can almost smell the papaya. I guess living with her husband Sam, who is an equally amazing surf artist, has paid off. Between the two of them, the Vokeys are producing some of the best Surf art in the country. And I feel privileged to be able to showcase her art, as well as everyone else here this week. Including my son Max's wacky pen and ink pieces.

I only do this once a year. But I feel good showing these amazing surf artist's work.

Encourage your children to draw. Let them open their minds to that creativity that we all have. I am convinced that every single person on this planet is capable of making art. You just have to apply yourself. And as far as Surf Art? What better inspiration do you need than the amazing ocean we all play in. And the amazing photographers who capture those moments. Frozen in time. There's your inspiration.

If you can see it, or imagine it, you can draw it. Be creative.



Now for some of my

W

eekly Global

O

bservances:


OK so are you guys sick of hearing about this Flight Attendant that quit his job by having a little hissy fit? He's a hero? Really? Because he quit his job? He called some woman a bitch and then deployed the life slide on a major airplane and slid down with a couple of beers in his hand. Let me tell you something. Anybody can quit. Anyone. It's seeing it through that takes courage.

The men and women who are serving our country in harms way, would love to just quit. But they know that's the easy way out. I have always enforced this on our three kids. Anyone can quit. It takes a special person to finish the job. If this guy becomes a hero because he quit his job, we are all in trouble. Deep trouble. Don't reward this fool. Laugh at it. It's sort of funny, but that's it.

The other big story is about the Mosque that some Muslim Clerics want to build at Ground Zero. Look, I know it's their legal right to build a Mosque at Ground Zero. But is it morally right? I don't know. This Global War on Terrorism is not against the Muslim Religion. It is against Radical Islamic Extremists. There is a difference. The question is whether that difference is enough, to not cause the families and friends who lost loved ones on September 11th 2001 any more additional pain. I don't know.

If it were me, I'd look for another location.

And if I hear one story or see another video of a Great White Shark down the Cape or in California I will scream. Earth to media outlets. TV, Radio and Internet. There are SHARKS in the Ocean. There are Sharks in the Atlantic. And there are Sharks in The Pacific. Is that really a news flash? Now if we have a Great White Shark attack on the Cape, or in California that would warrant some news. But until then...can we talk about something else please? What ever happened to all the UFO sightings?

Enough with the shark BS,

OK so I watched the Patriots play the Saints the other night. And yes I got a little excited seeing the boys march the ball down the field and score. I liked Ben Jarvis Green Ellis. And I thought Mahrony looked good. And the defense was solid with linebackers Mayo and Spikes. But damn it people, I am still stuck in 2007. I can't dislodge that bone that is lodged in my throat. I can't get over that game . I am hopelessly trapped in that Super Bowl Game against the Giants. It's like Ground Hog Day for me. I can't get out of this nightmare scenario. It's crazy I know. But that's where I'm at with The Patriots. Yes I'll watch the games. But I will be more into watching my son play College Football than I will be watching the Pats. 19 and Oh No-o-o-o-o...



ANNOUNCEMENTS:


Good Luck to Mackey Heading off to College Football Camp this week. Go EC!
BIG HANDSOME DADDY performing at Weare's Common on Rte 1 in Hampton Falls, NH Thursday August 19th 6:30-7:30PM FREE Summer Concert !
SURF PARTY Contest for Molly on August 22nd 2010 at Independence Park across from Cinnamon Rainbows on Sunday August 22nd 2010. See poster for details.
Check the DAILY BLOG on My CATCH A WAVE FOR MOLLY. (Click On the Banner on this page.) Started on July 26, 2010 ENDS July 26, 2011. A Wave a day for 365 consecutive days. Just click on the banner ads on this page.
AUGUST 27th the Wounded Warriors Return to Hampton. HIT THE BEACH III will take place at 18th Street at the Wall on North Beach. We moved the venue down to 18th Street for wheelchair access and close proximity to the bathhouses.
HAPPY BIRTHDAY Julia Nichols August 19th! We ALL Love you Jules!
Happy Birthday Kai Nichols August 2th! (Also Duke Kahanamoku's birthday)
Happy Birthday John Fatello August 25th!

*CHECK RULES AND TIPS PAGE FOR LIFEGUARD AND SAFETY TIPS
PLEASE Pick up your trash at the beaches.

CHECK OUT THE NEW/Old YESTERDAY PAGE! ALL OLD New England and
beyond Surf Pics! *NEW PICS added each week!

*Check out the NEW updated DROPPING IN ON RALPH blog Section.
ALL Of

July

is up and most of August. *This is the blog section of this website where you can write in and comment. The only downside of this blog is, you actually have to use your REAL Name. No hiding behind some fake handle and name. If you want to comment, you have to man up, and be yourself. I will post all comments, both good and bad. You just have to be yourself.

Please Support ALL The photographers who contribute to Ralph's Pic Of The Week
every week for the last

7

years. **Think about BUYING a Photo from any of the weeks on RPOTW as a GREAT Gift Idea. A nice framed photo of your favorite Surfer!
Remember my friends...Surfing Heals All Wounds....
Pray for Surf. Pray for Peace. Surf For Fun.

Ralph







CLICK ABOVE for DAILY "Catch A Wave For Molly" BLOG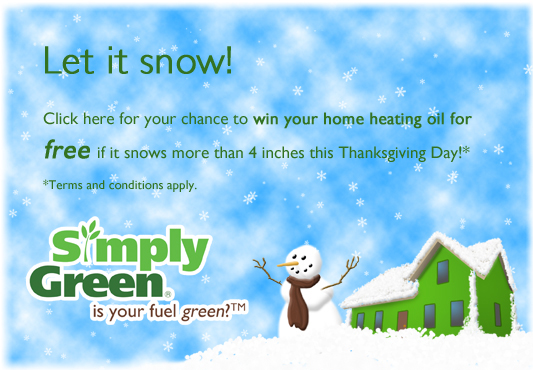 Click YESTERDAY Banner Below to see new Old Surf Pic Page

Summer of
1976
...
The HOT Dudes
by RALPH
(Below) This was one of those early ball point pen doodles I used to love to do in my spare time. This particular drawing was inspired by my two friends in the drawing. On the far left is Thom Tremblay (who was an incredible artist in his own right) and on the right with the dark shades is Mike Costa. We all worked together at the same newspaper. We used to skateboard all the time back in those days. Yep we got in trouble for it too. Drawing By RALPH

CLICK TO SEE OTHERS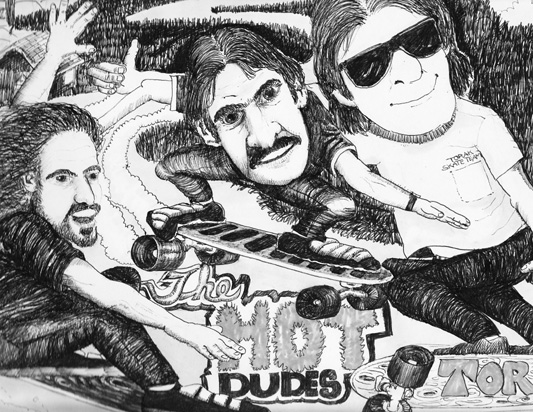 Click on the photo above to see other Older sketches...

Today-
Tuesday-August 10th, 2010

(Above) OK I know it's the Surf Art Column...but I needed to show the waist high waves this week as well. This was on Tuesday. Yes it was waist high. Tuesday August 4th, 2010. Photo By RALPH
*
Click on the photo above to see the Whole Gallery.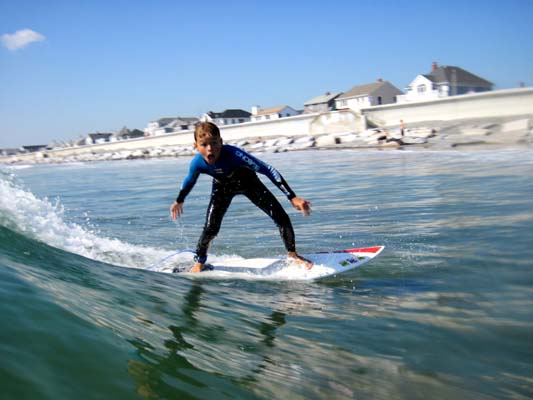 (Above) Thomas Haut pretending he's at Backdoor Pipe. Someday he just might be. Tuesday August 4th, 2010. Photo By RALPH

*
Click on the photo above to see the Whole Gallery.
(Above) Skip Brunette. Tuesday August 4th, 2010. Photo By RALPH

*
Click on the photo above to see the Whole Gallery.
Today-
Monday-August 9th, 2010

(Above) Kai Nichols looking like a mini version of some Aussie point break. But it's not. This is the Wall. Monday August 9th, 2010. Photo By RALPH
*

Click on the photo above to see the Whole Gallery.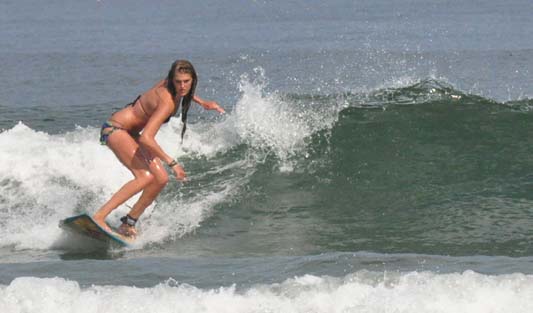 (Above) Unknown woman at the Wall on Monday. Monday August 9th, 2010.
Photo By RALPH *

Click on the photo above to see the Whole Gallery.



SURF ART SURF ART SURF ART SURF ART

(Above) I created this on Wednesday August 11, 2010. It was all done in Photoshop. I used the paintbrush tool and smudge tool. Is this not surf art? Well of course it is. Just because I painted with my mouse does not mean it's not art. It's not traditional art. But it's art. I call it WINTER WAVES. Tell me what you think.
Painted By RALPH *

Click on Image for Larger Version.






(Above) Stan Chew's Noreaster's End. Painting by Stan Chew
*

Click on the
painting
above to see the Whole Gallery.
(Above) This is one of Erik Zak's wood carvings. His stuff is unique and a must have for all Surf homes. Wood Carving by Erik Zak.
*

Click on the photo above to see the Whole Gallery.
(Above) Cardiff By The Sea by Corey Howard. Check out more of Corey's work.
Oil on Canvas. Painting By Corey Howard *

Click above to see the Whole Gallery.




(Above) Hannah Vokey is fast becoming one of my favorite local surf artists. This is surfing in the art of surfing. Painting by Hannah Vokey
*

Click on the photo above to see the Whole Gallery.





(Above) I love this painting. That distant peak peeling off outside, and the casual walk of the lone surfer walking out to meet those waves. I really like this scene. Hannah Vokey's art of of surfing. Painting by Hannah Vokey
*

Click on the photo above to see the Whole Gallery.





(Above) DC Langer's South Beach Mush. Digital art at it's electric best.
By DC Langer *

Click on the
image
above to see
larger version.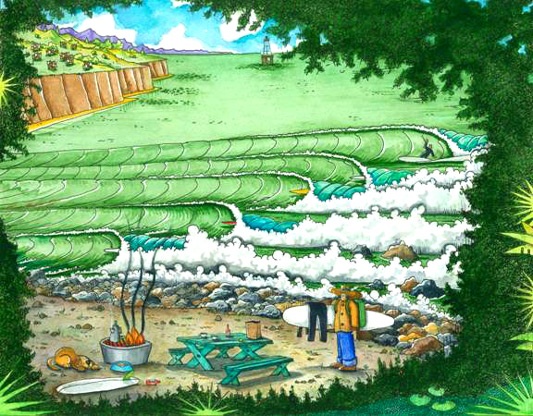 (Above) Alan-Casagrande. This is one of the artists from California that has really grown on me in the last few years. The Phantom loves this guy and has him secretly deployed throughout their West Coast adventures.

Click on the
painting above
to see the Whole Gallery.
(Above) Wade_Koniakowsky amazing in the barrels scenes. Check it out.
*

Click on the
painting
above to see the Whole Gallery.
(Above) Jeff_Yeoman's classic beach scenes. Check it all out.
*

Click on the
painting
above to see the Whole
Gallery


(Above) Steve Valiere's " Speed Run". Oil on canvas. *

Click to see Bigger Image.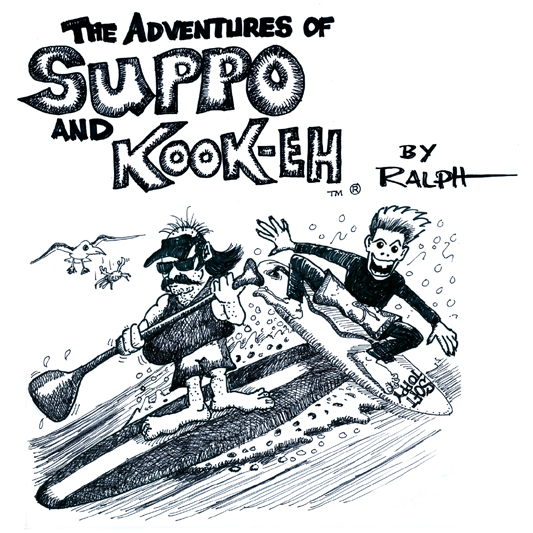 (Above) I'm thinking of making this a regular monthly feature here on the column.
The Adventure's of SUPPO and KOOK-EH. What do you guys think?
. *

Click to see Bigger Image.

Click above g
ra
phic for Daily BLOG
or
to DONATE to the Fundraiser.

CLICK ON THE PLAY BUTTON BELOW

A great little Video piece on some of the Best Surf Art on the Planet.
The Internet is truly an amazing tool. I simply googled Surf Art and came across so many beautiful works of Surf Art that it was mind boggling. Take a few minutes to look at this video clip. If you are an artist it will inspire you to paint or draw. If you are surfer you will certainly appreciate what you are about to see.

If you are neither, well you too will enjoy this visual simply because you are alive and you are here on this site because you like both surfing and the art of surfing.
Keep surfing and keep painting...

Ralph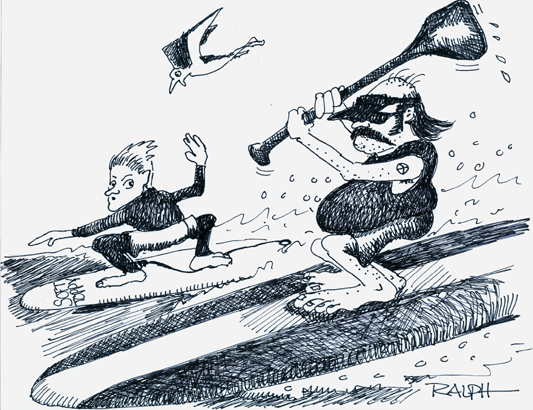 (Above) All Rise:

10th Street District Court of Surf Justice is now in session, the
Honorable Judge Ralph G. Fatello presiding. CASE #69 BLATANT DROP IN OF
THE WEEK- This case is another first.The First Ever Cartoon Drop In.
SUPPO vs KOOK-EH.. Drawings by RALPH

Click above to see the Whole CRIME.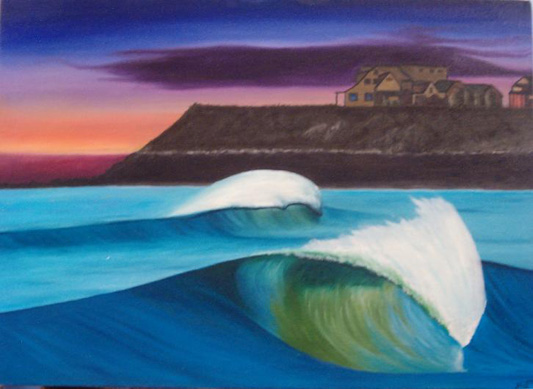 (Above) One of our talented readers sent this in. Phil Munson.
*

Click above to see

the Readers Gallery
(Above) Charlotte Donohue is only 7 years old. But it sure looks like she likes surfing
and art. A colored pencil piece of art. *

Click above to see

the Readers Gallery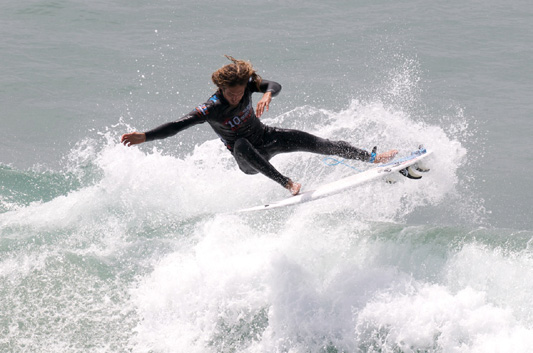 (Above) US OPEN Rob Machado's not skipped a beat in the last few years. This tail popping fin slide is evident of that fact. Our main man on the southern Cal coast Ben Ginsberg has it all in another fresh batch from the front lines of the contest scene. Photo By Ben Ginsberg. COMING NEXT WEEK!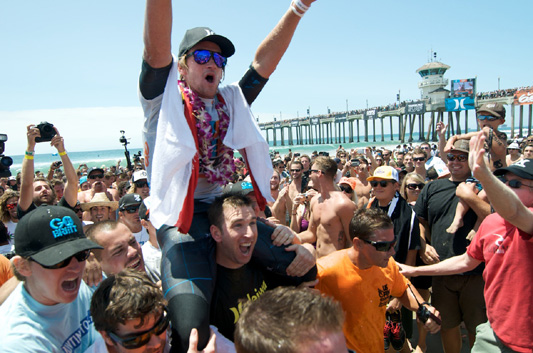 (Above) Simpo's victory at the US OPEN. Ben Ginsberg is Johnn y On The Spot in
West Coast the contest scene. Photo By Ben Ginsberg. COMING NEXT WEEK!
(Above) Andrew Kellar at the Wall. Photo by Ginger- COMING NEXT WEEK!

(Above) Chris Kellar at the Wall. Photo by Ginger- COMING NEXT WEEK!


(Above) A smile on everyone's face. Jimmy Dunn's Show at the Ashworth last week was a Huge success for this talented Comic Surfer. Photo by RALPH- COMING NEXT WEEK!


*Click masthead above to read the original ISM story.
(Above) Put the cursor over the images above to see happens when you DROP in on someone. You become Invisible. Simply put the mouse over the photo to see the original photo and then marvel at the results of what happens when the criminal becomes invisible. *Put the cursor over the photo to see the Real image.
Drawings by RALPH



Today 2010
"Not Another SHARK Scare!!!!"
(Above) I painted this on my board back in 1989. It was my Shark Board. I used acrylic paint and painted right on the foam.
Check all the fun images of my infamous shark board from yesterday.
Photo by Gabby Fatello
Click above to see the Whole Gallery.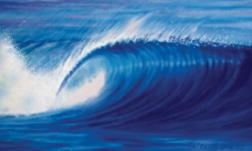 Click on Wave to return to top of page
This site designed and maintained by Adlantic copyright 2010