Man do we live in a digital world or what? We are all connected.

And not just connected, but most of us are overwhelmingly dependent on our digital devices. Look, I know this is nothing new. But it just becomes increasingly apparent to me each week at just how addicted we are to our digital devices.

From desk tops to lap tops, to I-pads and I- phones. From Smart phones with 3G and 4G to everything else in between. And I'm no different than any of you. I'm right there with you. Every step of the way. Except I refuse to text and drive or for that matter, I will not text and walk. I have to draw that digital line somewhere.

You won't catch me stumbling into traffic with my Smart ass phone inches from my face, trying to read some insignificant text. Nope.

But it was so funny to see how many of us Surfers were tuned into the Internet and the Wave Cams and Surf Forecasts this week, only to be let down day after day. Like our lives were ruined when the swell didn't show up on time. How dare Magic Seaweed be off by 12 hours? I've got things to do here! So funny, or maybe it's pathetic.

Reading all the youngsters and the many Facebook posts, cursing the surf forecasts for messing them up. I have to chuckle.

I guess I am still old school enough that I can actually watch the locals news and weather on TV and figure out if and when we will get surf. Like today for instance. There was good surf this morning. But hardly anyone was out. How is that possible in 2012? We all bitch and complain about the crowds and tourists, and yet a waist to chest high glassy swell showed up this morning and there were only a handful of riders.

The crowds did eventually show up once the wave cams were clear of the fog and clouds. But by then, the tide had dropped, and the wind came onshore. No sir. It was an early bird special only today.

You were either scoring, or you were snoring.

Thank God my man Ed O'Connell was tuned into this latest pulse, because he was there at 5:30AM and got the goods. Oh yea. Ed saved the week. His images do not lie. And the smart surfers (all 6 of them) got some good fun waves to share with each other. But thanks to Ed O'Connell and his PROOF of Surf gallery, the NEW RUN is into the second consecutive week. Whew! Thanks Ed.

Brian Nevins scored waves this past week as well. But in Mexico.

Nevins took off on August 3rd and scored some great pics and some long, long ass, right point break surf at an unnamed location deep in Mexico. His proof of surf is also featured in this week's blog.

The water is warming up with each passing week, and it is only a matter of time before the first REAL Tropical Storm or Hurricane hits. But we are due. Good Lord are we ever due. Not that I want to see anyone get hurt, or lose property, but "Tis The Season!"

Speaking of losing property. A local surfer emailed me this week to tell me that he was the victim of a "Surf robbery". Are you kidding me? Who the hell steals someone's surfboard and wetsuits? Are we really that bad off? Please take a GOOD LOOK
at this board. If any of you spot this board at any of the breaks here in New England kindly get back to me via my email on this page and help us get that gear back to the rightful owner.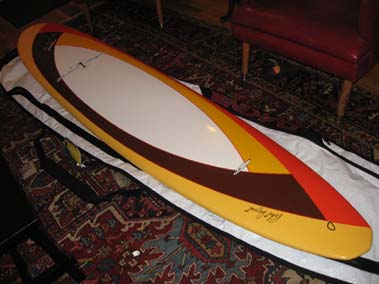 This board should be easy to spot. Read the email below:

"Hello Ralph


Well the "un-shaka-able" has happened up here in Rye.
The board pictured (as well as my buddy's 9'6" Stewart Regal - blue/white with top wood inlay) was stolen from a garage on Perkins Road in Rye. Happened about 3 am on Friday Aug. 3rd. They also made off with 3 wetsuits.
I distributed photos to all the area shops but I still know it is a very longshot that we will ever see these boards again.
I name all my boards after people in my life that have passed-on and have been meaningful to me. Each time I take one of my boards out, I reflect on the person the board is named after and
it gives me much comfort to be thinking of a lost loved one while out on the water.
This Robert August Saber (pictured) was named "Mr. Bill" after my best-bud's father that died last year. I plan on a "Mr. Bill II" to fill the loss in the quiver and keep the memory of Bill with me.

Thanks

Peter R"
Come on people. We don't steal surfboards from each other. What is this some third world country? Come on. Keep your eyes and ears open. If you spot this board or the Stewart PLEASE let me know. This is the kind of bad karma that will come back and bite you in the ass. If you are the person with this board, do the right thing and return it.