Looks like we FINALLY made it. I'm going to go out on a limb and say, "we have seen the last of the snow."
I posted two pics on my Facebook page this week that I knew would draw some attention. And by attention I mean, I rubbed some people the wrong way. Not intentionally, but I guess I subliminally did so knowing that I would cause a few hairy eyeballs to rise up.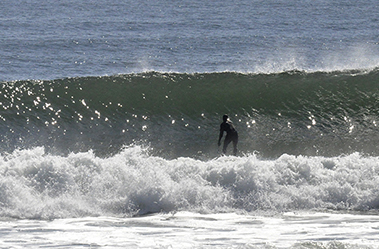 I watched this SUP guy paddle out at the wall the other day, and he kept bailing his board every time a wave that was shoulder high or slightly bigger approached him. He would just jump off his board without looking behind him to see if there was anyone else paddling out. He would just jump.

It was driving me crazy. And it was also driving the other 3 to 4 surfers batty who were out surfing the same section at the Wall.
I could only guess that he was either a complete beginner, or he was genuinely terrified of these shoulder high waves. What else would explain his complete disregard of the safety of others who were surfing nearby? He was in a word a KOOK.

The firestorm erupted when I innocently tagged a few SUP riders that I knew who actually knew about surfing and wave etiquette. One SUP in particular was enraged that I would have the balls to tag him. But I meant no disrespect by it. I was curious as to whether or not this was the norm for other SUP riders.

In other words, do most SUP riders bail when faced with an oncoming set that is head high or better? Is this typical? Or was this guy exactly what I thought he was? My guess is the latter. He was a KOOK who was scared of having to paddle through those waves.

Why exert energy when you have a leash?

The trouble with leashes on any craft is people tend to use them too much. People have always let the leash save them from having to do any physical work. And that's wrong. And it's also a way for others to get hurt. No surfer I know would welcome a loose board of any size come hurtling at their face while paddling out. Especially a 10 foot SUP. Are you kidding me people? |
YOU MUST CONTROL YOUR CRAFT NO MATTER WHAT!

In other words, control whatever it is you are riding. I don't care if it's a SUP, Longboard, Shortboard, Boogieboard, inner tube...whatever! You MUST control your craft! Or face the negative vibes and feedback that will be coming your way. And trust me, they will be coming your way if you continue to bail your board.

"Controlling Your Craft heals all wounds!"

The other controversial FB posting was when I posted this photo of a home here in Hampton, NH that STILL has their Christmas decorations up. I mean COME ON people! Really? 104 days after Christmas and you still have this shit up on your front yard? That's crazy. That's lazy. That's just plain wrong.




I have self appointed myself the Christmas Police of the Seacoast. Special Agent RALPH will be patrolling the neighborhoods checking to see if you still have your Christmas decorations up. If I find out that you do. Depending on the severity of the decorations, will determine how much of a fine you will be levied with.

Most cases will be verbal warnings.

But once we have you in the system, we will make return visits after each holiday. There's no sound reason to keep your holiday decorations up months after the holiday. Unless you're dead, in a coma, or have moved away, you must take down your decorations in a timely manner. Please don't make me come by your home and take it down for you. Please don't make me do that.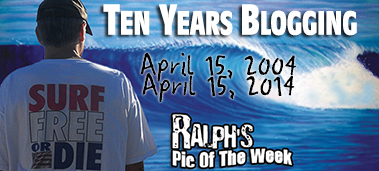 You more than likely noticed that I changed the mast head above for this week's blog. Just had to throw out a shout out to myself for the BIG 10 year anniversary coming up next week. 10 years is a long time. But 10 years of blogging without missing a single week? Come on people, who does that? No one I know.

It's hard for me to believe and I'm the one doing it. I mean all you have to do is go to the archives page and read every week from the last 10 years. It's all there. The highs and the lows.

Every single week complete with pics and video clips.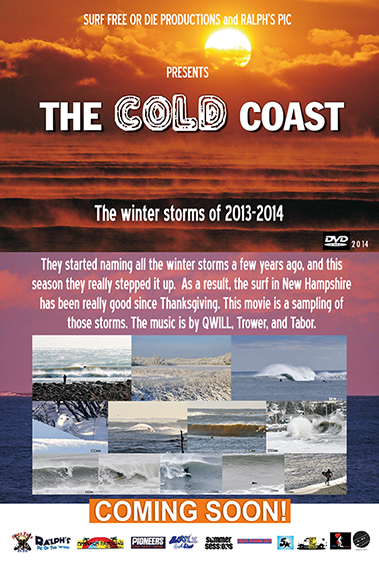 We are done shooting all the surf and action shots for the movie, The next phase is the interviews. The footage I shot in PR last week will be a welcome sidebar to the deadly cold winter storms we have had here this winter. The release date keeps getting pushed back. Right now I am still shooting for a late April early May release. But we will see.

Now for Some Of My Weekly Global Observances
The missing Malaysian Plane is still the lead off story on most TV and cable stations this week. I swear CNN won't know what to do if they find this thing. It's like they have developed a whole NEW Reality TV series after this plane went missing well over a month ago now. It is so sad for the families. And it's just the most mind boggling mystery ever! Who the hell knows where this thing is? No one seems to have an answer.


I know this is NOT funny. But at this point? Maybe this is not that far a stretch. Last week I posted the Gilligan's Island parody, this week's from the TV show LOST. I mean who really knows? They both (Gilligan and LOST) incredibly have a sliver of credibility. As absurd as it seems. They cannot be ruled out. Crazy huh? Or not...the whole world is watching and waiting. And when the story finally breaks everyone everywhere will breathe a sigh of relief.

And now for my weekly humiliation of Khalid Sheik Muhummed (KSM) the mastermind behind 9-11. This week KSM is seen at the home with all the lawn decorations.




Could Ole KSM really be into Christmas? Or is this another Terrorist plot? Hmmm....we better check it out. So once again, let's all take a minute, and enjoy the weekly humiliation of the mastermind terrorist who killed 3,000 innocent civilians on September 11th, 2001.

* Note to self: Must pick up a case of Holiday lawn decorations at Home Depot this week.

ANNOUNCEMENTS:
HAPPY BIRTHDAY Brook Gassner April 6th, 2014!
HAPPY BIRTHDAY Alex Bean April 7th, 2014!
HAPPY BIRTHDAY Rich Beauchesne April 7th, 2014!
HAPPY BIRTHDAY Patty Moore April 8th, 2014!
HAPPY BIRTHDAY Taylor Baxter April 8th, 2014!
HAPPY BIRTHDAY Karen Evans April 8th, 2014!
HAPPY BIRTHDAY Casey Lockwood April 9th, 2014!
HAPPY BIRTHDAY Demetri Vlahouli April 9th, 2014!
HAPPY BIRTHDAY Duffy McCarthy April 9th, 2014!
HAPPY BIRTHDAY Mike Keefe April 9th, 2014!
HAPPY BIRTHDAY Jenny Priester April 10th, 2014!
HAPPY BIRTHDAY Lisa McCarthy Sheehan April 10th, 2014!
HAPPY BIRTHDAY Bob McNeil April 12th, 2014!
GET WELL SOON Little FINN LOCKWOOD!
REST IN PEACE Fred Schaake.
REST IN PEACE Just Gail (Dunn.)

And please continue to send positive thoughts and prayers to our dear friend Debra White and family.

Please Support ALL The photographers who contribute to Ralph's Pic Of The Week every week for the last 9 years. **Think about BUYING a HIGH RES Photo from any of the weeks on RPOTW.

Remember my friends... Surfing Heals All Wounds.
Pray for Surf. Pray for Peace. Surf For Fun.

Ralph


Like us on Facebook