On April 20th, 2014-Happy Easter & Happy Passover!
I was just reading in the new SURFER section where they ask a bunch of surfers from all walks of life, and undoubtedly all skill levels, a monthly question about surfing. It's always interesting to see what others have to say on a number of surf related issues. This month it was all about magic boards.

As in, did you ever have a Magic Board?

Well, my heart sank when I saw that.

Not only did I have a magic board, but I actually had two. I still have the second magic board I've ever owned. But the first magic board? She's gone. Long gone. And it pains me to tell the story about that board. And each time I tell it I try and find solace in that board being gone in my life.

And before you start shaking your heads thinking "Dude it's just a surfboard.." well you would have missed the point entirely. The question was..."Did you ever own a magic board?"

Now I suppose the definition of what constitutes a magic board must come into play here. But for those of you who have been surfing a few years, and have some knowledge of what surfing is all about, you can certainly relate to this. A "magic board" is just that.

A board that can do you no wrong. A board that allows you to surf better than you have ever surfed in your life. As if it were...well like it was magic! (You getting this bunky?)

My first magic board was an 8' 3" Keoki. Say what? That's right.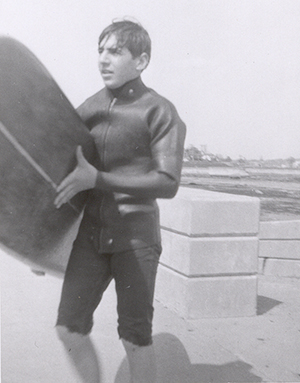 The year was 1965. I had been surfing for all of one year when I first got that board. All red with a single stringer and the trademark glassed in popout fin. Or "skeg" as it was called back then. Prior to me getting this board I was riding everything from Hawaiian paddle boards to borrowed rentals.

None of us had our own board. The funny thing is I do not remember where I got it, or who I bought it from. Maybe my late father bought it for me. I simply can't remember. I just remember what that board felt like under my feet.

I also didn't know at the time that this board had possessed that magic until I didn't have it anymore. The first summer I rode that board was well...(forgive me here) magical. But it was. Without question. That summer of 1965 was magical for me.

I can still hear her cascading down the line and just trimming along in a perfect harmony with the wave's pulse. If I close my eyes I can still imagine what it was like. I can still see the beads of water on the deck after waxing her with Gulf Wax (paraffin). That board. That Red Board was making me fall in love with surfing. I could surf on that board unlike anything before it.

And then one day my friends said to me. "That board is too short! You need a bigger board!" And I was like "Really? Because I like this board. It fits me well and I really love surfing on it...""Ralph we are telling you, that board is too damn small! You need at least a 9' 6"!"
But I was adamant. "Gee, I like this board. I really like it." But I was out numbered and they all got on my case about it.

And so I reluctantly sold it and bought a new board. A 9' 6" Royal Hawaiian that absolutely sucked. Zero rocker, too thin, and worst of all? NO magic...I was doomed. I rode that Royal piece of shit for another two years before I bought my first short board.

A Harbor Rapier ...which ironically was 8' 2". And as much as I liked that Rapier, it was not as good as the Keoki.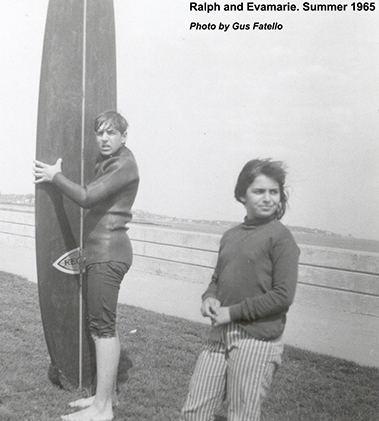 That Red Keoki. If anyone has a 8' 3" Red Keoki out there and wants to sell it. Please get in touch with me. This summer will be my 50th year surfing and I would give almost anything to get that board back. Or a board like it. The Black and White photo above is the only evidence I have of it. Help me find my magic board.


And my other magic board is this 6' 4" Blue Hawaii that I bought off the rack at Stevie's BOARD Shop on the main beach in the late 80s. That board was truly magical and I knew it and would NO WAY ever get rid of that board. In fact I was at a place in my life that I would gladly get rid of friends who were giving me bad advice than get rid of another magic board.

This board is still in my garage. Beat up and scarred but still with me.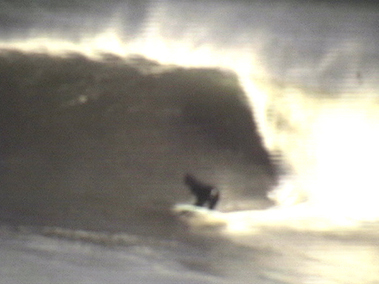 I rode that board in all conditions. Small, medium, and big waves. That board had just the right about of rocker and thrust and I always felt confident riding that BH. In fact, my son Max rode that board
early on when he was a fledgling young grom.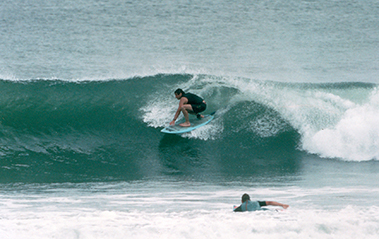 This is a better photo of that Magic BH. Like I said, it's beat up with dings and scratches, and the deck has begun to de-lam. It's there for my own personal desires. Is it still rideable? Sure. If you were in a jam, you could ride it. But for the most part, it's been retired. Like the old Harbour Rapier.

"A Magic Board Heals All Wounds"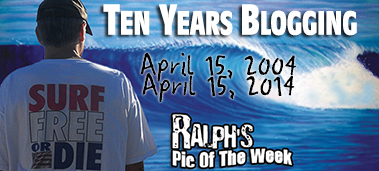 CLICK ON THE GRAPHIC ABOVE TO SEE EVERY
SINGLE WEEK FROM THE LAST 10 YEARS!

"Blogging About Surfing Heals All Wounds"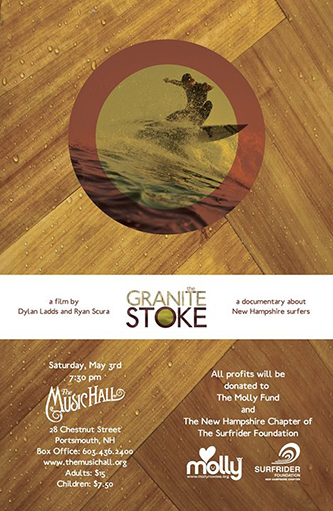 The Granite Stoke boys, Dylan Ladds and Ryan Scura are premiering their new documentary THE GRANITE STOKE on Saturday May 3rd, 2014 at 7:30PM at the Music Hall in Portsmouth, NH. I've had the opportunity to see a preview of the movie and want to say up front, that it was very well done. The boys have an eye for photography and their editing skills continue to improve with each new clip I see.

There are enough local flavor faces that you will recognize and acknowledge, and overall the film flows nicely. Because the the proceeds go to the both the MOLLY Fund and the SURFRIDER Foundation, I am personally asking you to try and attend. It will be worth your time and your dime.

Speaking of movies. My 18th DVD on the SFOD label will be coming out at the end of May. The COLD COAST. The shooting of surf is all in the can and the last of the interviews are wrapping up this week. Unlike the Granite Stoke movie above, my movie is more like the others I have produced. In your face action by the characters who live and surf around here. And by living here,
I do mean here on planet earth.

I shot an exceptional amount of water footage for this one. Unfortunately one particular session was all for nothing due to the fact that I had the wrong settings on my camera. But I more than made up for it with other footage. But I will let you be the judge once you've seen it.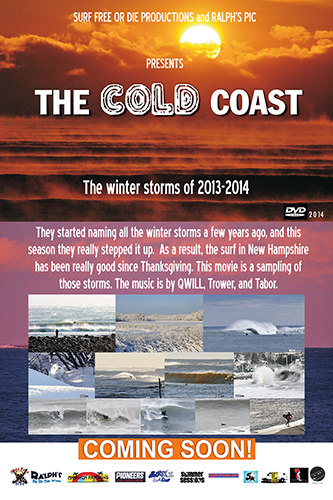 Just wanted to thank you all again for the well wishes and kudos that you all sent on my 10th anniversary. It was a humbling experience. So thank you again.

Now for Some Of My Weekly Global Observances
The missing Malaysian Plane has been preempted by the sinking of the South Korean Ferry last week. And here's the killer, They KNOW where the Ferry is, and they still couldn't save them. Any hope of finding anyone alive in both the plane or the ferry, are slim to nil. Then on the heels of the sinking Ferry, news came out about the avalanche on Everest that killed 12 people.

Look I don't have a problem with people wanting to do crazy shit, but I do have a problem with others risking their lives to save your dumb ass when you get in trouble. Anyone who climbs Everest should sign a waiver basically saying that : "I am a dumb ass and I know that I could die or get hurt, and that it's ok if you don't try and rescue me due to that fact that I am stupid." Am I right people?

On the Good news department. US DRONES killed a boatload of Terrorists this week in Yemen. God I love reading news about those Drone strikes. But more than that I love seeing the videos. So cool to see the Terrorists get killed without warning. It's like the hand of God comes down and personally takes them out.

Speaking of God. Today is a big deal in the Christian world..

Easter Sunday is the day that the whole Christian religion is based on. The resurrection. The whole Easter Bunny thing was a distraction for the kids. And it worked. Keep the kids busy with hunting eggs while the adults pondered the existence of their beliefs. Solely based on this day. Do you believe? Do you believe in the Easter Bunny?

Our boy KSM did when he was a kid. Check it out.

And now for my weekly humiliation of Khalid Sheik Muhummed (KSM) the mastermind behind 9-11. This week KSM is seen in a rare B&W pic of him and the Easter Bunny. He is with his cousin Al (short for Allubejah). Even as a small child KSM looked miserable.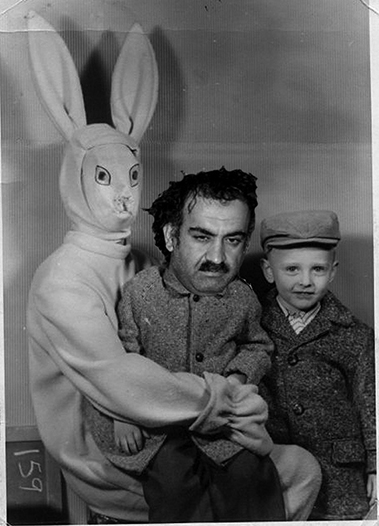 So once again, let's all take a minute, and enjoy the weekly humiliation of the mastermind terrorist who killed 3,000 innocent civilians on September 11th, 2001.

* Note to self: Must pick up a case of Easter Candy at Home Depot this week.

ANNOUNCEMENTS:
HAPPY BIRTHDAY Shawn MacDonald April 19th, 2014!
HAPPY BIRTHDAY Pam Linseman April 21st, 2014!
HAPPY BIRTHDAY Thomas Hay April 23rd, 2014!
HAPPY BIRTHDAY Brian Brunault April 23rd, 2014!
HAPPY BIRTHDAY William BIG BRAD Henderson April 23rd, 2014!
HAPPY BIRTHDAY Rick Hosely April 26th, 2014!
HAPPY BIRTHDAY Sofia Haffenreffer April 26th, 2014!
HAPPY BIRTHDAY Cathy McGee April 27th, 2014!
HAPPY BIRTHDAY Peter Tilton April 27th, 2014!
GET WELL SOON Little FINN LOCKWOOD!
HAPPY PASSOVER and HAPPY EASTER !
GO BRUINS!!! COME ON You Guys!
ESA benefit at FLATBREAD Hampton April 22nd, 2014
And please continue to send positive thoughts and prayers to our dear friend Debra White and family.

Please Support ALL The photographers who contribute to Ralph's Pic Of The Week every week for the last 9 years. **Think about BUYING a HIGH RES Photo from any of the weeks on RPOTW.

Remember my friends... Surfing Heals All Wounds.
Pray for Surf. Pray for Peace. Surf For Fun.

Ralph


Like us on Facebook